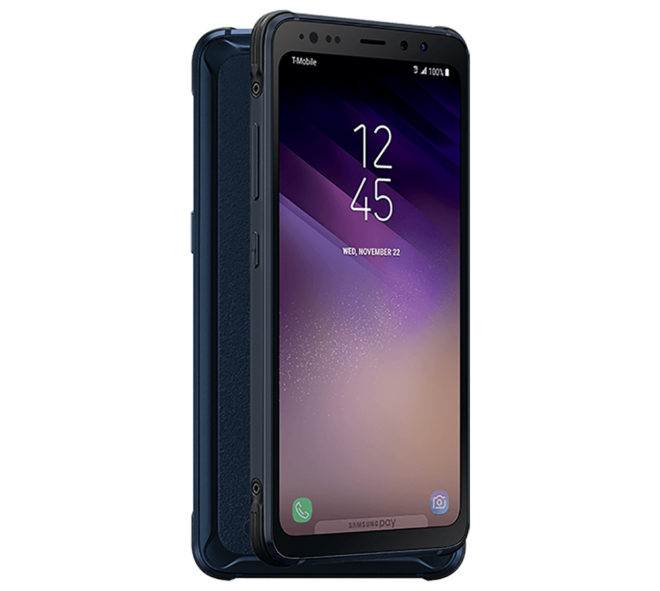 The rumors were true: The Samsung Galaxy S8 Active is coming to T-Mobile.
The Galaxy S8 Active will be available online on November 17th and will roll into T-Mo stores on November 22nd. Pricing will be set at $100 down and $30 per month for 24 months (full price: $820) on EIP or $100 down and $29 per month with an 18-month JUMP! On Demand lease.
One of the most notable features of the T-Mobile Galaxy S8 Active is its support for T-Mo's 600MHz (Band 71) coverage, which helps extend the reach of its LTE coverage. 600MHz LTE is currently live in Cheyenne, Wyoming and Scarborough, Maine, and is slated to launch in the following parts of the U.S. in 2017:
Wyoming
Northeast and Southwest Oregon
West Texas
Southwest Kansas
The Oklahoma panhandle
Western North Dakota
Additional areas of Maine
Coastal North Carolina
Central Pennsylvania
Central Virginia
Eastern Washington
The S8 Active also boasts support for 4×4 MIMO and 256 QAM on T-Mobile.
Another highlight feature of the Galaxy S8 Active is its toughened body. It's got a metal frame with bumpers to help it survive drops, and it met the MIL-STD-810G military standard to survive extreme temperatures, shock and vibration, low pressure, and high altitude. The S8 Active is also dust and water resistant, and it's got a textured back for added grip.
Other specs of the Galaxy S8 Active include a 5.8-inch 2560×1440 Super AMOLED display, 12-megapixel rear and 8-megapixel front cameras, a Snapdragon 835 processor, and 4GB of RAM. It'll come with 64GB of storage with a microSD slot for adding more storage, and a 4,000mAh battery will power the entire package.
This is the first time that we've a Galaxy S Active family device on a carrier other than AT&T. It's great to see a toughened Galaxy S flagship on another carrier, giving more people the option of buying a smartphone with built-in protection.
Now that it's official that the Galaxy S8 Active will be coming to T-Mobile with 600MHz LTE support, are you thinking about picking one up?
Source: T-Mobile