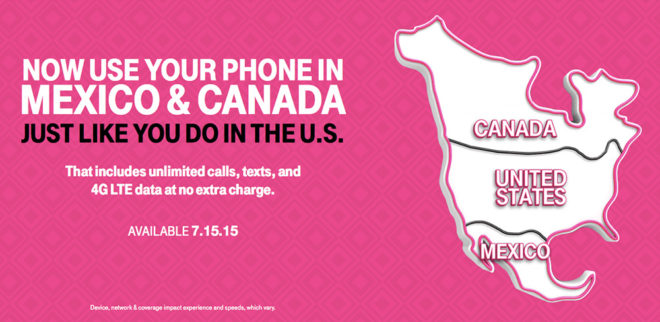 T-Mobile has revealed a change coming to its Mobile Without Borders feature.
Starting November 12th, 2017, customers on T-Mobile One, Simple Choice North America, and qualifying legacy plans will have unlimited talk, text, and up to 5GB of 4G LTE data in Mexico and Canada. After that 5GB of usage, customers will have unlimited data at 128Kbps, or 256Kbps on T-Mobile One Plus.
When it launched in mid-2015, Mobile Without Borders allowed customers to use their 4G LTE data just like they did in the U.S.
As for why T-Mobile is making this change, the carrier says that it's aiming to "prevent usage beyond the intent of the product." T-Mo explains that less than 1 percent of people that travel to Mexico and Canada use more than 5GB of data per month.
This change is a disappointing one, as you know exactly how much high-speed data you have while traveling to Mexico and Canada — however much you normally have — without adding anything to your plan or worrying about an international data allotment. With this new limit, customers with 10GB or unlimited high-speed data allotments will be limited in the amount that they can use while traveling.
Thanks, American Patriot and Steven!
Source: T-Mobile