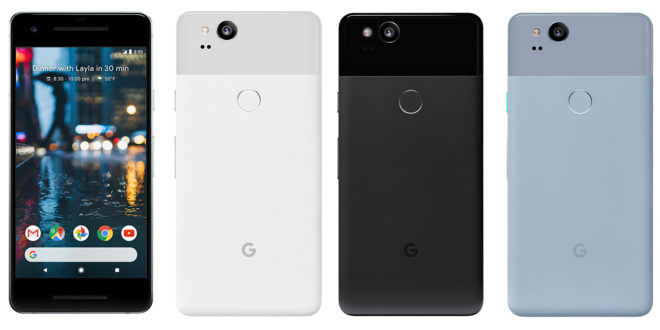 With just two days to go before Google's Pixel 2 event, several clear images of both the Pixel 2 and Pixel XL 2 have made their way online.
The Google Pixel 2 carries a design similar to the original Pixel, with large top and bottom bezels and a glass window on the back panel that holds the rear camera. There are some slight tweaks here, though, including the addition of dual front speakers and a fingerprint reader that's no below the aforementioned glass window.
That design is carried over to the Pixel 2 XL, but this larger model appears to have smaller top and bottom bezels than the standard Pixel 2.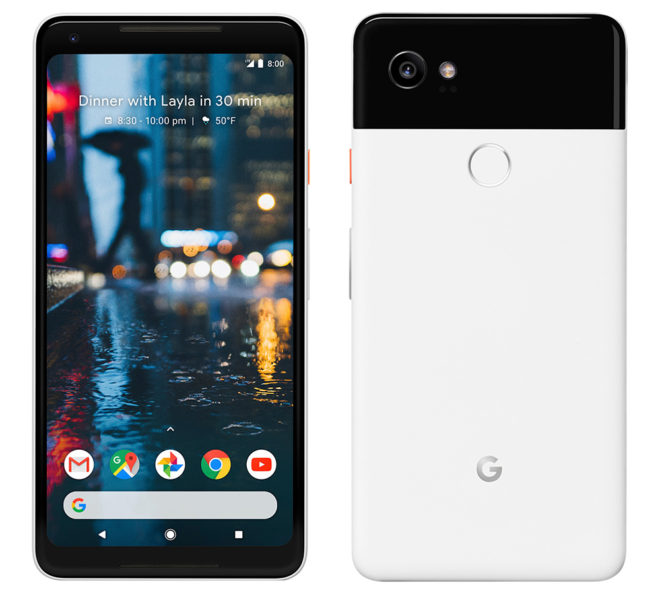 When it comes to specs, the HTC-made Google Pixel 2 will reportedly offer a 5-inch 1920×1080 display with a 16:9 aspect ratio. The LG-made Pixel 2 XL is expected to pack a 6-inch Quad HD+ screen with an 18:9 aspect ratio.
Besides screen size, the two phones are said to have similar spec sheets that include the Snapdragon 835 processor, 4GB of RAM, 64/128GB of storage, a 12-megapixel rear camera, and front-facing speakers.
Google is expected to launch the Pixel 2 on October 19th and the Pixel 2 XL on November 15th, with pre-orders coming before those dates. Pricing is rumored to be $649/64GB and $749/128GB for the Pixel 2 and $849/64GB and $949/128GB for the Pixel 2 XL.
It's unclear which carriers, if any, will carry the Pixel 2 and Pixel 2 XL in the U.S. While T-Mobile didn't sell either of the original Google Pixel phones, it did make a big push to get consumers to bring their Pixels to T-Mo, including an offer of $325 in bill credits for customers that bought an unlocked Pixel and brought it to T-Mobile.
While these Pixel 2 and Pixel 2 XL phones may not have some of the features found on other flagship, like super slim bezels and dual rear cameras, they do have other things to offer instead. The addition of front-facing speakers on both models is great to see, and getting Android OS updates directly from Google for two years is a plus as well.
What do you think of these leaked Pixel 2 and Pixel 2 XL details? Are you thinking about picking either phone up?
Source: VentureBeat