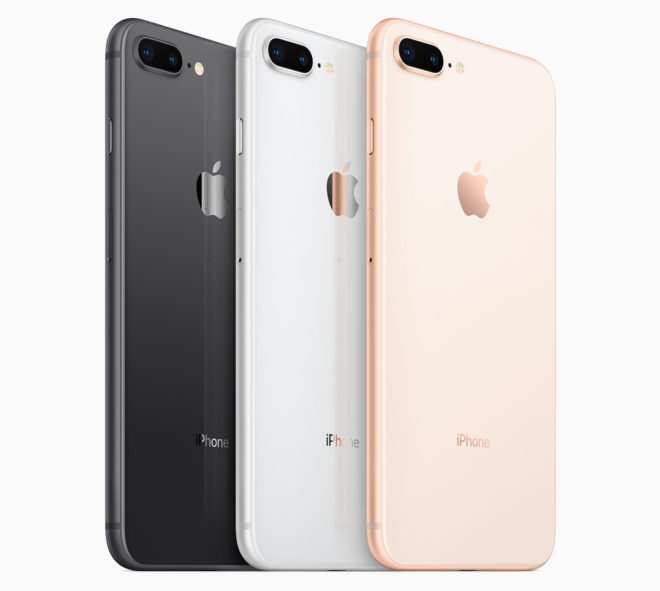 T-Mobile is making it easy for customers that buy one of Apple's new iPhones to upgrade to a future model.
T-Mo today announced its own iPhone upgrade program. With it, customers that buy the iPhone 8, iPhone 8 Plus, or iPhone X can trade in their device when it's 50 percent paid off and T-Mobile will eliminate the remaining payments. This means that you'll be able to upgrade to your next iPhone without any additional payments or anything like that.
Customers who buy the iPhone 8, iPhone 8 Plus, or iPhone X on EIP will automatically get the iPhone upgrade program and its one-time benefit.
While the iPhone 8, iPhone 8 Plus, and iPhone X offer some solid upgrades over previous iPhone models, some folks are disappointed that they don't support LTE band 71 that uses T-Mobile's new 600MHz spectrum. With T-Mo's iPhone upgrade program, they can upgrade to this year's new hardware anyway and then move to next year's phone which will hopefully have LTE band 71 support.
T-Mobile today also confirmed that it'll begin taking pre-orders for the iPhone 8, iPhone 8 Plus, and Apple Watch Series 3 at 12:01 am PT on September 15th. Here's what T-Mobile's EIP pricing for those devices will look like: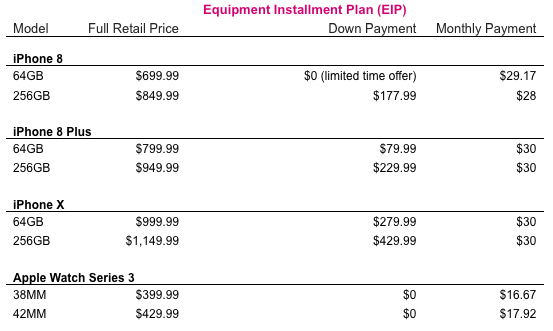 T-Mo will also be running a deal that'll get you up to $300 off (via 24 monthly bill credits) a new iPhone 8, iPhone 8 Plus, or iPhone X when you trade in an iPhone 6 or newer and buy your new device on EIP.
If you'd like to upgrade using JUMP! On Demand, here's what you can expect to pay for the iPhone 8 and iPhone 8 Plus:
iPhone 8
64GB: $0 down and $29 per month
256GB: $219.99 down and $23 per month
iPhone 8 Plus
64GB: $0 down and $33 per month
256GB: $279.99 down and $24 per month
Finally, Apple Watch Series 3 buyers will get 3 months of free service with Digits when they buy their device. Once those 3 months are up, it'll cost $10 per month with AutoPay to have the Apple Watch Series 3 on your plan.
Source: T-Mobile