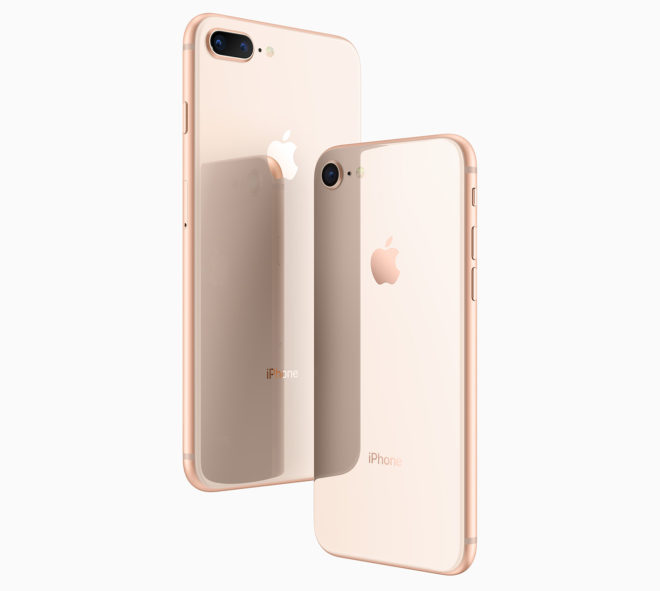 Right on schedule, T-Mobile today began taking pre-orders for Apple's iPhone 8 and Apple Watch Series 3.
The iPhone 8 and iPhone 8 Plus are available for pre-order in 64GB and 256GB configurations and Gold, Silver, and Space Gray color options. As of this post, all models appear to have an estimated ship date of September 21st-September 22nd.
The Apple Watch Series 3 is also available for pre-order in 38mm and 42mm sizes and Gray, Black, Sand, and Fog Sport Band color options. Ship dates for these models vary, with some estimated to ship as early as September 25th while others are expected to ship as late as October 20th.
As a refresher, here's what the EIP pricing for Apple's new iPhone 8, iPhone 8 Plus, and Apple Watch Series 3: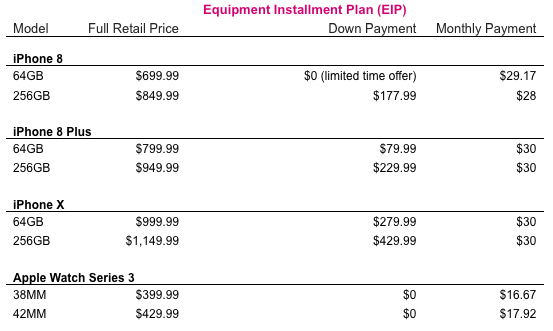 For customers that'd prefer JUMP! On Demand, you can get the 64GB iPhone 8 for $0 down and $29 per month or the 256GB iPhone 8 for $219.99 down and $23 per month. The 64GB iPhone 8 Plus is $0 down and $33 per month, while the 256GB iPhone 8 Plus is $279.99 down and $24 per month.
T-Mobile is running a couple of deals for the iPhone 8. First up is its iPhone upgrade program, a one-time benefit that'll let you buy the iPhone 8, iPhone 8 Plus, or upcoming iPhone X on EIP and then when you pay off 50 percent of it, you can trade it in and wipe out your payments to upgrade to a new model.
Additionally, T-Mobile will give you up to $300 off (via 24 monthly bill credits) on a new iPhone 8, iPhone 8 Plus, or iPhone X when you trade in an iPhone 6 or newer and buy your new phone on EIP.
Apple Watch Series 3 buyers should know that they can get their first 3 months of service for their new watch for free. After that, unlimited talk, text, and data with Digits will cost $10 per month with autopay.
Finally, it's worth noting that the iPhone X will be available for pre-order on October 27th and will begin shipping on November 3rd.
So did any of you pre-order an iPhone 8, iPhone 8 Plus, or Apple Watch Series 3? Or did something make you pass on these devices, like the iPhone 8's lack of 600MHz LTE support or the upcoming iPhone X?
Sources: T-Mobile iPhone 8, iPhone 8 Plus, Apple Watch Series 3 38mm, Apple Watch Series 3 42mm