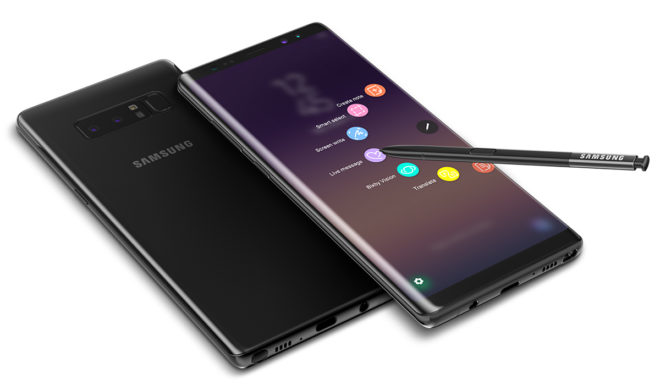 Today's the day that iOS fans can pre-order Apple's new iPhone 8, and Android fans have their own new flagship available to them.
The Samsung Galaxy Note 8 officially launches at T-Mobile today. The Note 8 comes with 64GB of built-in storage and includes a microSD slot if you need more storage. Color options include Orchid Gray and Midnight Black.
Pricing for the Note 8 is set at $210 down and $30 per month for 24 months on EIP, which works out to a full retail price of $930. If you'd prefer JUMP! On Demand, you can get the Note 8 for $0 down and $39 per month.
Also of note is that T-Mobile is still running its Galaxy Note 8 buy one, get one deal. With it, you can buy one Galaxy Note 8 on EIP and then get a second Note 8 (or Galaxy S8 or S8+) for free. Both phones must be purchased on EIP, and you'll need to add a line for the second device. You'll then go to T-Mobile's Promotions Center and enter the promo code 17SAMN8BOGO, and T-Mo will send you a prepaid MasterCard for the value of your second device.
Additionally, if you buy a Samsung Galaxy Note 8 before September 24th, Samsung will give you a free Gear 360 camera or a free accessory bundle that includes a 128GB microSD card and a Fast Wireless Charging Convertible Stand.
Lots of folks pre-ordered the Galaxy Note 8, and many of them have already received their device. It's good to see the Note 8 actually launch, though, because it gives folks the opportunity to check out a Note 8 in-store before agreeing to drop hundreds of dollars on the flagship device.
If you're one of the lucky folks that already got a Galaxy Note 8, what do you think of it so far?
Source: T-Mobile