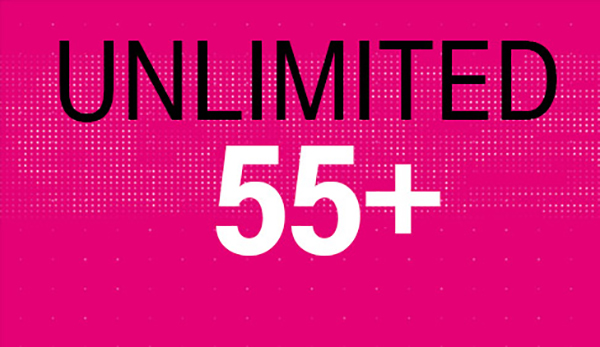 T-Mobile's got a new plan, and it's targeted specifically at older consumers.
The new T-Mobile One Unlimited 55+ plan is launching on August 9th. Available to customers age 55 and older, the plan offers two lines of unlimited talk, text, and 4G LTE data for $60 per month, taxes and fees included. The first line is $50, the second is $10, and then there's a $5 per line Autopay discount.
This plan includes T-Mobile One benefits like Simple Global for unlimited text and data roaming (128Kbps) as well as flat-rate roaming in more than 140 countries, Mobile Without Borders for using your plan in Mexico and Canada, 1 hour of free Wi-Fi and unlimited texting in Gogo-equipped flights, and Digits. T-Mobile One Unlimited 55+ customers also get mobile hotspot and T-Mobile Tuesdays.
As with the standard T-Mobile One plan, customers on T-Mobile One Unlimited 55+ will stream video at 480p quality and mobile streaming will max out at 3G speeds. Unlimited 55+ customers can add T-Mobile One Plus for $10 per line per month to get unlimited HD video, 10GB of 4G LTE mobile hotspot, and more, or T-Mobile One Plus International for $25 per line per month for unlimited international calling and unlimited 4G LTE mobile hotspot.
Also of note is that there's a maximum of two voice lines per Unlimited 55+ plan.
T-Mobile is currently offering two lines of T-Mobile One service for $100 per month, so this new Unlimited 55+ plan is a pretty nice deal for those that qualify. T-Mo CEO John Legere says that only 8 percent of postpaid customers 55 and up use T-Mobile while 81 percent are on AT&T or Verizon. With this new plan, T-Mobile is targeting a specific group to help boost its customer base and steal some subscribers from its competition.
Source: T-Mobile