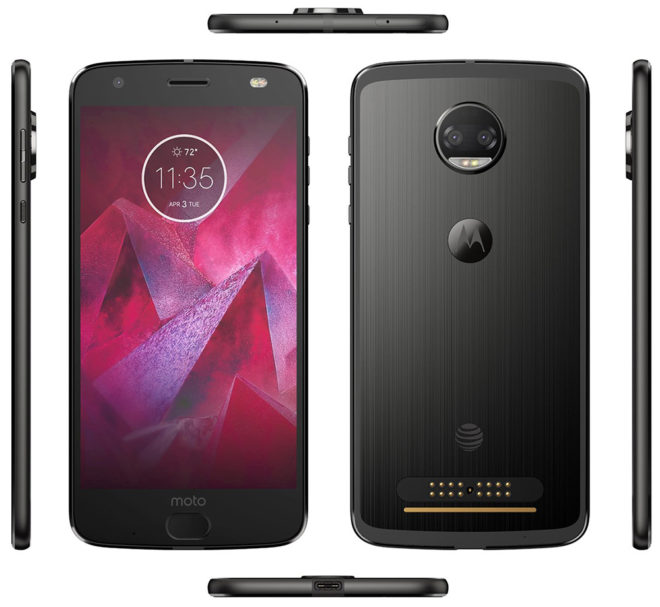 It feels like it's been awhile since a new Moto smartphone was on T-Mobile's shelves, but that might change soon.
The Moto Z2 Force is rumored to be coming to T-Mobile, and today a report claims to have spilled many of the device's specs. Moto has equipped the Z2 Force with a 5.5-inch 2560×1440 Super AMOLED display, says VentureBeat, and the screen includes ShatterShield technology to help protect it against drops.
Above that display is rumored to be a 5-megapixel camera, and around back is a pair of 12-megapixel cameras. Typically when a phone has dual rear cameras, its secondary camera is used for something special like an optical zoom or a black and white lens, but it's unclear what special features the Moto Z2 Force's dual rear camera setup may offer.
Rounding out the Moto Z2 Force's rumored feature set is a Snapdragon 835 processor, 4GB of RAM, 64GB of built-in storage, and a microSD slot for adding more storage. The whole package is said to be powered by a 2730mAh battery. The leaked image also shows several connector pins at the bottom of the Moto Z2 Force's backside that are used for attaching Moto Mods.
Motorola is holding an event on July 25th, and it's expected that the Moto Z2 Force will make its official debut there. It's said that T-Mobile will be getting an exclusive Lunar Grey color option for the Moto Z2 Force.
Considering that T-Mo missed out on the original Moto Z Force, as well as the other Moto Z phones, it's nice to see that the Moto Z2 Force will be coming to U.S. carriers not named Verizon. It's kind of disappointing that the Moto Z2 Force will reportedly have a smaller battery than the Z Force (2730mAh vs 3500mAh), and the apparent lack of a 3.5mm headphone jack may turn some people off, but it will be nice to have the option of the Moto Z2 Force on T-Mobile for folks that find Motorola's Moto Mod accessories appealing.
Source: VentureBeat