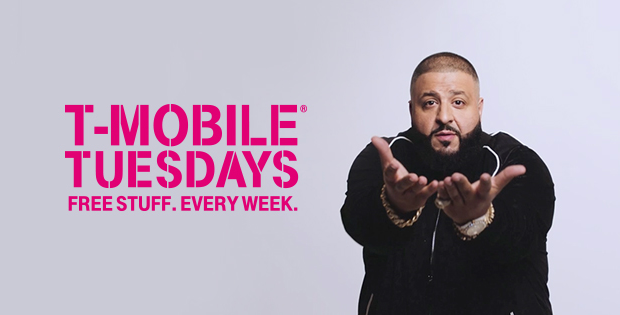 We're coming up on the one-year anniversary of T-Mobile Tuesdays, and it should come as no surprise that T-Mobile has got something planned for the event.
On June 6th, T-Mobile Tuesday will include gifts like a free T-Mobile trucker hat, $0.25 off a gallon of gas at Shell (up to 20 gallons), and two free rentals from Redbox, one of which you can give you a friend. Prizes will include 100 LG G6 phones, 5,000 $25 Lyft credits, and a free year of Baskin-Robbins ice cream for a winner and three friends.
T-Mobile will also be hosting a "12-hour thankathon" on Twitter. During the event, which starts at 9:00 am PT, T-Mo will be giving out prizes that anyone can win. The prizes will include a free year's worth of gas, free movie tickets for a year, $2,000 to spend at StubHub, and more. To learn how to enter, you can follow @TMobile on Twitter.
T-Mo is also kicking off a contest today with a grand prize that includes a trip for four to Las Vegas to see an event of your choice at T-Mobile Arena. To enter, you'll need to tell @TMobile on Twitter about your favorite T-Mobile Tuesdays gift using the hashtags #Thankiversary and #contest.
Finally, T-Mobile has teased some of the gifts that it's got planned for this summer. T-Mobile plans to offer $4 tickets to "this summer's hottest movies." We already know that the first is Wonder Woman, which you can get a $4 opening weekend ticket to today. The other movies will be announced later this summer.
T-Mobile is also going big with Baskin-Robbins in June. One one Tuesday in June, T-Mobile customers will be able to get a free Baskin-Robbins ice cream worth up to $4, and every week in June will include an offer for a second Baskin-Robbins sundae for $0.99 when you buy one at regular price. And then there's the prize of a free year of Baskin-Robbins ice cream that'll be available on June 6th.
So that's how T-Mobile is celebrating T-Mobile Tuesdays' first birthday. Which T-Mobile Tuesdays gift or prize has been your favorite so far?
Source: T-Mobile