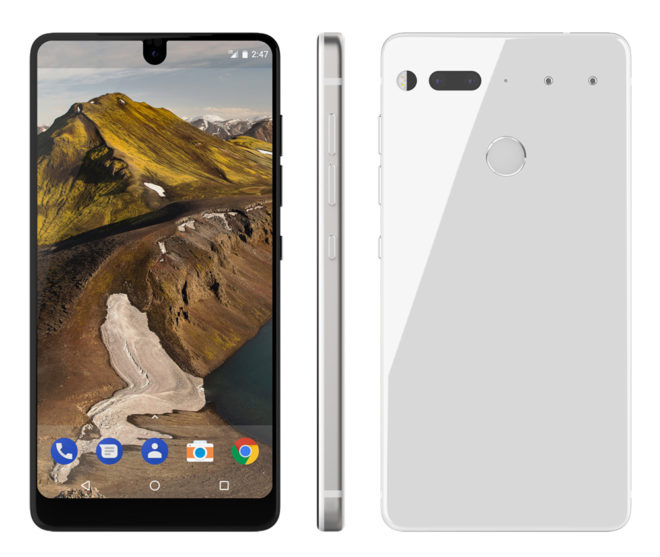 UPDATE: Here's T-Mobile's official statement about the Essential Phone:
"We're excited for Andy Rubin and his team (the device looks amazing), and welcome customers purchasing Essential to bring it to the fastest and most advanced 4G LTE network in the country through our BYOD program. We'll have more to share closer to general availability in terms of what advanced network features might be available in Essential."  
ORIGINAL: Meet the Essential Phone, the latest Android smartphone to enter the flagship market.
The Essential Phone is being made by Essential, a new company that's being headed up by Andy Rubin, one of the co-founders of Android. Essential's new phone comes with Android 7.1.1 Nougat.
Also included with the Essential Phone is a 5.7-inch 2560×1312 display with rounded corners and a 19:10 aspect ratio. The screen has slim bezels on three of its sides, and at the top of the screen there's an 8-megapixel camera that supports 4K video capture. That camera actually covers part of the top of the display, presumably in order to help keep its bezels slim.
The back of the Essential Phone is home two a pair of 13-megapixel cameras, one color and one monochrome. This helps the Essential Phone to capture 200 percent more light than standard smartphone cameras, claims Essential, as well as improve low light performance. Also on the back of the phone is a fingerprint reader and a set of pogo pins that'll be used for adding accessories to the Essential Phone, like a 360-degree camera and a charging dock.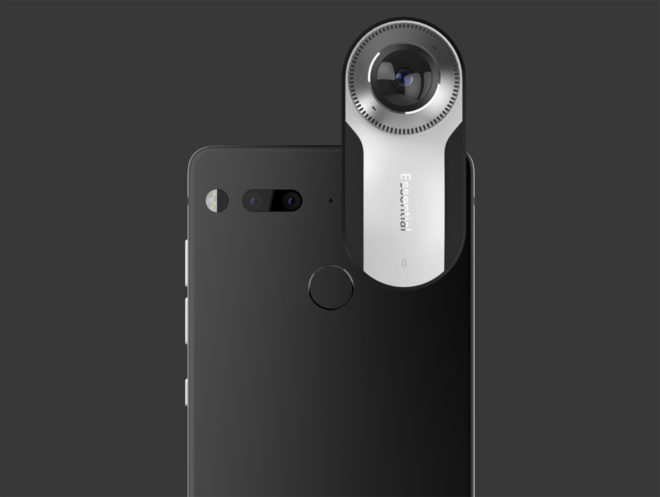 Other features of the Essential Phone include a Snapdragon 835 processor, 4GB of RAM, 128GB of storage, a 3040mAh battery, USB Type-C, fast charging, NFC, and body with a titanium frame, ceramic back, and Gorilla Glass 5 front. Also of note is that while the Essential Phone doesn't include a 3.5mm headphone jack, Essential will include a USB Type-C-to-3.5mm adapter in the phone's box.
The Essential Phone will be sold unlocked. Here's what its wireless band support looks like:
UMTS/HSPA+: 1, 2, 4, 5 6, 8
GSM: 850, 900, 1800, 1900 MHz
CDMA EV-DO Rev. A: 0, 1, 10
FDD-LTE: 1, 2, 3, 4, 5, 7, 8, 11, 12, 13, 17, 20, 21, 25, 26, 28, 29, 30, 66
TDD-LTE: 38, 39, 40, 41, 42, 43
TD-SCDMA: 34, 39
Essential says that unlocked phones bought on its site "will work with any carrier", and the company adds that its phone supports Carrier Aggregation. T-Mobile's LTE bands are supported by the device, but it's unclear if the Essential Phone will be certified to work with features like T-Mobile VoLTE or 256 QAM.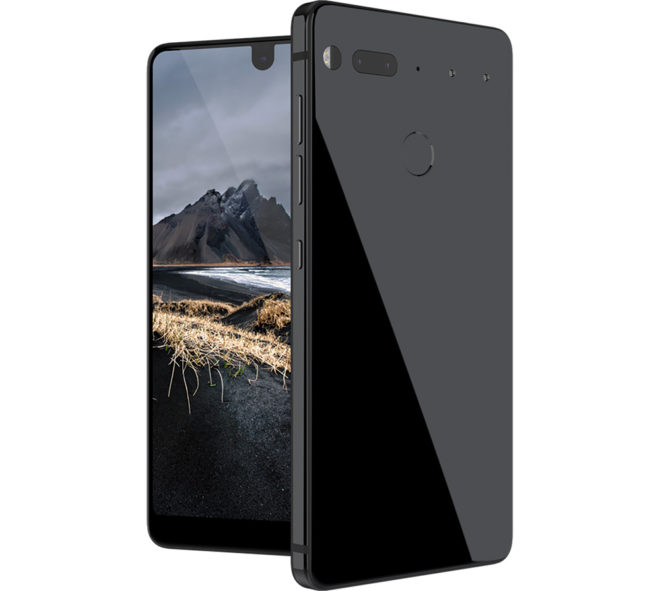 Essential is now taking reservations for the Essential Phone, but the only release info that's currently available is "later this summer". Essential will not charge your credit card if you reserve a model, though. When your phone is ready to be shipped, Essential will request your credit card info, and then your phone will ship when your card is charged.
Pricing for the Essential Phone will be set at $699, and its 360-degree camera add-on will cost $199. For a limited time, though, you can add the 360-degree camera to your reservation for $749.
The Essential Phone looks like a nice device, boasting an attractive and clean design (though that front-facing camera placement looks a little strange at first) and a flagship-tier spec list. However, there's no word yet on any carriers selling the Essential Phone in their stores, and that's how most US consumers buy their smartphones. Andy Rubin is a big name to us mobile fans, but he and Essential are relatively unknown to the public, so it'll be interesting to see how well the Essential Phone sells.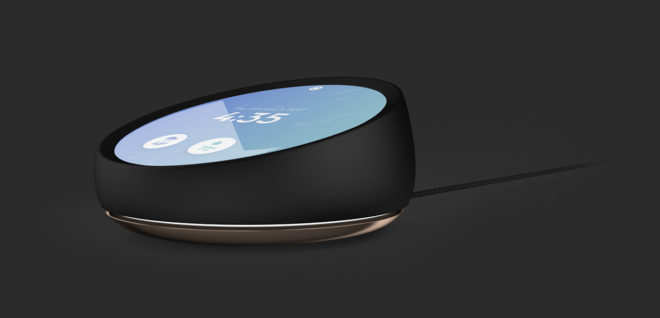 Essential today also introduced a competitor to the Amazon Echo and Google Home. Called the Essential Home, the device is an assistant that can answer questions, control smart home products, and give you proactive info, like telling you to leave early for a meeting due to traffic. The Essential Home runs Ambient OS and works with Alexa, Siri, and Google Assistant. There's no word on when the Essential Home will launch or how much it'll cost when it does.
So what do you think of Essential's new devices? Are you thinking about reserving an Essential Phone?
Sources: Essential Phone, Essential Home