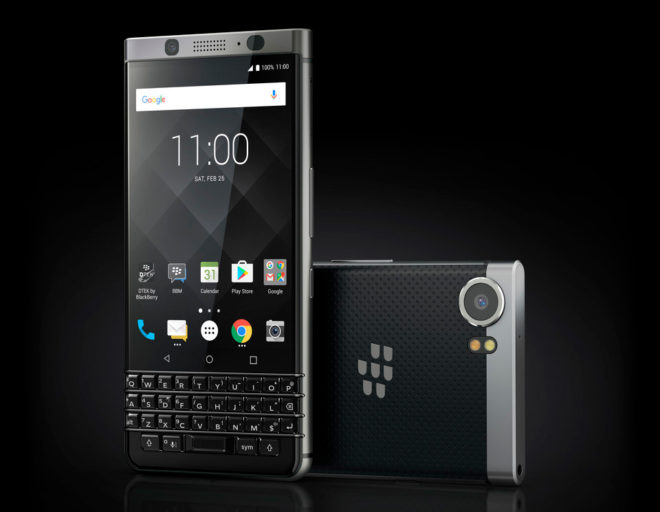 UPDATE: It looks like the BlackBerry KEYone will be offered by all four major US carriers.
UPDATE 2: Now TCL is walking back the statement about the KEYone coming to all four US carriers, saying that it may come to all four but confirming that it'll work on all four.
ORIGINAL: BlackBerry is back with a new phone, and unlike its past couple of releases, this one's got a physical keyboard.
The BlackBerry KEYone — which is actually made by TCL Communication — runs Android 7.1 Nougat on a 4.5-inch 1620×1080 LCD screen with a 3:2 aspect ratio, and below that display is a physical keyboard with a few tricks. For example, you can program the buttons to be shortcuts to contacts and apps, like making the "B" button launch the browser.
The KEYone's keyboard also doubles as a trackpad, letting you scroll through webpages and emails without having to touch the screen. You can use the keyboard to flick predictive text onto the display, too, and the keyboard's space bar includes a fingerprint reader.
Around back, the KEYone's features a 12-megapixel camera with a Sony IMX378 sensor and large 1.55µm pixels, which is similar to the camera on the Google Pixel. The KEYone's front-facing camera is of the 8-megapixel variety and it includes a wide angle lens.
The BlackBerry KEYone's shell includes an aluminum frame and soft textured back. Inside that shell is an octa-core Snapdragon 625 processor, 3GB of RAM, 32GB of storage, a microSD slot, NFC, a 3505mAh battery, Quick Charge support, and USB Type-C. The KEYone's comes preloaded with Android 7.1 Nougat, which is notable since the only other phones running 7.1 right now are Nexuses and Pixels.
Cellular connectivity on the KEYone includes GSM 850/900/1800/1900, HSPA+ bands 1, 2, 4, 5, and 8, and LTE bands 1, 2, 3, 4, 5, 7, 12, 17, 19, 20, 28, 29, 30, 38, 39, 40, and 41.
The BlackBerry KEYone will officially launch in April for $549. With its physical keyboard packed into a candy bar form factor, the KEYone is definitely one of the more interesting Android phones that we've seen lately. It's unclear if the KEYone will be sold by T-Mobile in the US, but buying one unlocked and throwing your T-Mo SIM in it is always an option.
What do you think of the BlackBerry KEYone?
Sources: BlackBerry (1), (2)