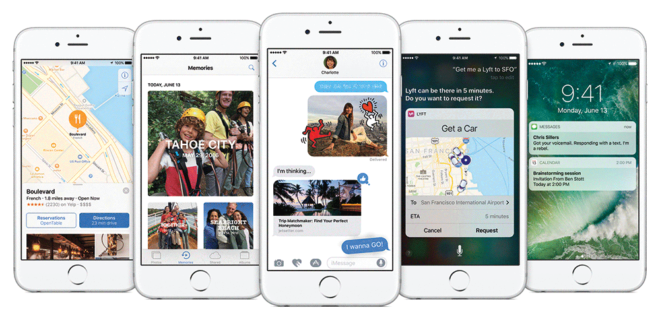 UPDATE 2: A fix is now available. If you've already updated to iOS 10, you can get the fix by going into Settings > General > About.
UPDATE: T-Mobile has confirmed the issue on Twitter and is urging its iPhone customers to hold off on updating to iOS 10. T-Mo says that Apple is working on a fix that should be available in 24-48 hours. Until then, anyone that's already updated to iOS 10 can temporarily fix the connectivity issue by powering their phone down and turning it back on.
Some folks had issues upgrading to iOS 10 shortly following the update's release, but Apple quickly resolved the issue. However, it turns out that many T-Mobile customers have encountered another problem after installing iOS 10.
Several iOS users on T-Mobile are complaining of cellular connectivity issues following the iOS 10 update. T-Mo customers on Reddit and Twitter are saying that their iOS devices are losing cellular signal and that the only way to get it back is to restart their device.
Neither T-Mobile nor Apple have issued an official statement on the issue, but T-Mobile's @TMobileHelp account on Twitter is instructing users to follow these steps for completing the iOS 10 update or telling them to contact AppleCare.
.@TMobileHelp since the carrier settings upgrade yesterday, my iPhone can't get service, only wifi. Any suggestions?

— Travis Pew (@travispew) September 15, 2016
@TMobileHelp are you aware of the issue with the new carrier update and ios10…? if i lose signal i never get it back until hard restart

— rabbit teef :B (@rabbit_teef) September 15, 2016
Because there's been no statement on the matter, the official cause of this problem is up in the air. However, many are pointing their fingers at the Carrier Settings 25.1 update that came with T-Mobile customers' update to iOS 10.
As for how you can fix the issue if its affecting you, customers say that they're able to get their service back (at least temporarily) by resetting their phone. You could also try downgrading to iOS 9.3.5, but that process involves downloading a .ipsw file, wiping your phone, and restoring from an iOS 9 backup, and so it may not be a process that everyone wants to go through. Here's to hoping that Apple and T-Mobile can quickly get a better solution to this issue.
Are you having cellular connectivity issues after upgrading to iOS 10?
Sources: Reddit, Twitter (1), (2), (3), (4)