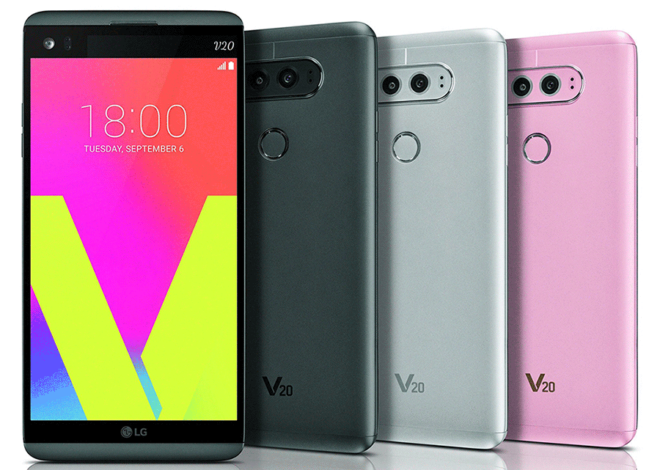 UPDATE: T-Mobile has confirmed that it will offer the LG V20 this fall. Expect more details as we get closer to launch.
We're in the thick of flagship smartphone season once again, and today it's LG's turn to show off its latest offering, the V20.
The LG V20 is now official, and like the V10 before it, it's got a secondary display sitting above its main screen. This secondary display has a resolution of 160×1040. Meanwhile, the main screen is a 5.7-inch 2560×1440 panel. You can use this secondary display for app shortcuts or to expand notifications, letting you read more of a longer message.
One notable difference between the V10 and the V20 are the camera setups. While the LG V10 boasted two front cameras and a single rear, the LG V20 has two rear cameras and one front. Specifically, the V20 is packing 16-megapixel standard lens and then an 8-megapixel wide-angle lens next to it, with a fingerprint reader below them.
These cameras have what LG calls a Hybrid Auto Focus, which combines laser autofocus, phase detection autofocus, and contrast autofocus. Also offered on the rear cameras is Steady Record 2.0, which uses electronic image stabilization to reduce shaking while you're recording video.
Around front there's a 5-megapixel camera with wide-angle lens resting next to the V20's secondary display.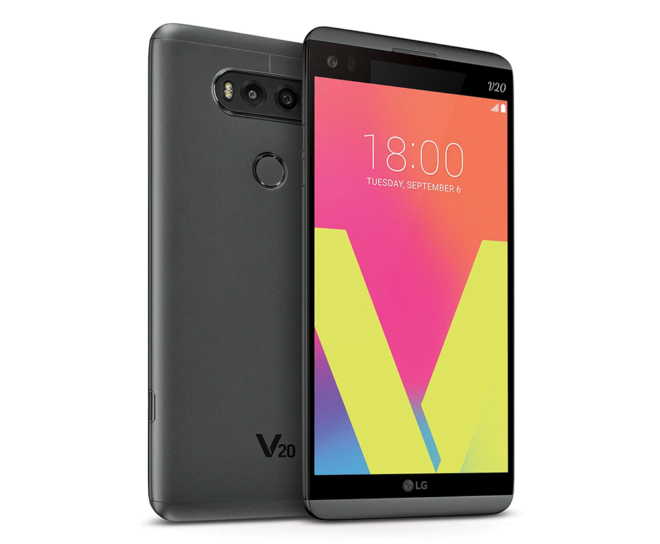 Another V20 feature that LG is touting is its Quad DAC (digital to analog converter). LG says that this feature will help the V20 to reduce distortion and ambient noise for higher-quality audio when used with compatible wired headphones.
The LG V20's other specs are about as high-end as you'd expect from a new Android flagship in late 2016. There's a Snapdragon 820 processor, 4GB of RAM, 64GB of storage, and a microSD slot for adding even more storage. Powering this whole package is a 3,200mAh battery that you can remove by popping off the metal back of the device. You do that by pressing the button on the lower right side of the V20.
Finally, LG touts that the V20 has passed the MIL-STD 810G Transit Drop Test, which lets it withstand drops from four feet up and still function normally.
The LG V20 will come preloaded with Android 7.0 Nougat with LG UX 5.0+. It'll be available in Titan, Silver, and Pink color options.
The LG V20 will launch in Korea this month, followed by releases in other regions. T-Mobile hasn't made any launch announcements as of this writing, but considering that T-Mo offered the V10 and that T-Mo's own Des Smith was at the unveiling tonight, it wouldn't be a surprise to learn that the V20 is T-Mobile-bound.
LG's new V20 looks like a nice flagship, offering all of the specs that you'd expect as well as a focus on multimedia, like the V10 before it. LG did switch some things up, though, like putting more of a focus on the V20's rear camera setup and using a metal rear cover rather than a rubberized back like the one on the V10. Two features that LG kept from the V10, though, were a removable battery and microSD slot, which is sure to please a lot of folks.
Now that it's official, what do you think of the LG V20?
Source: LG