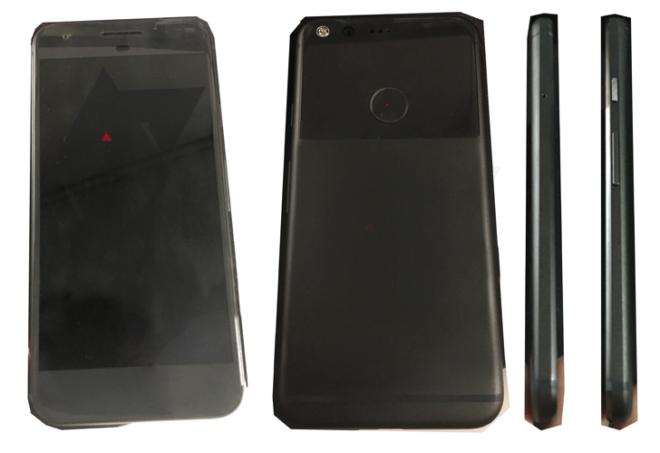 While T-Mobile doesn't always sell Google's Nexus phones, lots of T-Mo customers like to bring the unlocked phones onto the Un-carrier. Thanks to a new leak, we're getting a peek at what may be one of the new Nexus phones that'll be coming later this year.
Images that allegedly show the Nexus phone codenamed "Sailfish" have been shared by Android Police. The Sailfish is said to be the smaller of the 2016 Nexus phones, with the larger model being codenamed "Marlin." Both devices are expected to have a similar design, though, so the Marlin may have this same look.
The body of the Sailfish is mostly metal, though there is a glass insert on the backside that houses the phone's fingerprint reader and its rear camera. There's also an antenna line at the bottom of its rear, and while there's no branding to be found on this particular model, it's said that the final consumer version will have a "G" logo on its backside.
Also of note is that it's rumored that Google and HTC are prepping a few different color options of the Sailfish and Marlin. In addition to this dark gray model, it's rumored that there will be an aluminum version with a white front. Also reportedly in the works is an Electric Blue variant with a white front and glossy blue rear pane, but it's unclear if that version will actually be released to the public.
When it comes to specs, the Sailfish and Marlin will reportedly both have a 12-megapixel rear camera, 8-megapixel front-facing camera, 4GB of RAM, a quad-core Snapdragon processor, and USB Type-C. The smaller Sailfish is expected to have a 5-inch 1920×1080 AMOLED display and 2770mAh battery, while the bigger Marlin may have a 5.5-inch 2560×1440 AMOLED screen and 3450mAh battery.
Both the Sailfish and Marlin are reportedly being manufactured by HTC, and I think that you can see elements of HTC and devices like the HTC 10 in this Sailfish. That glass panel on the back helps to make this design more interesting than if it were just another all-metal phone, and the Electric Blue variants will help the Sailfish and Marlin stand out even more if they make it to market.
One thing to keep in mind is that these are leaked photos, and so you may want to reserve final judgment on the design until the new Nexus phones are official and we can get a better look at them. That said, what do you think of this leaked Sailfish device?
Source: Android Police