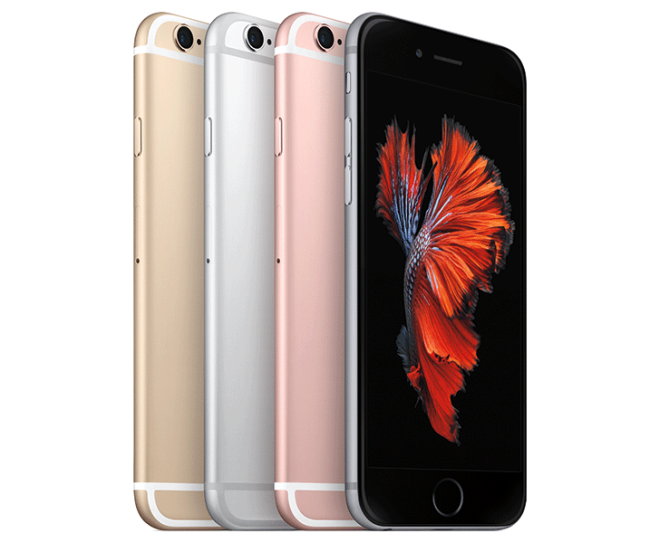 If you're in the market for a new iPhone and aren't interested in the iPhone 7 that's rumored to be coming next month, T-Mobile has a deal for you.
T-Mobile today kicked off an iPhone trade-in offer that'll get you a discounted iPhone 6s or iPhone 6s Plus. With this deal, you can trade in your iPhone 6, iPhone 6 Plus, or iPhone 6s Plus and get a 16GB iPhone 6s for $100. If phablets are more your thing, you can trade in an iPhone 6 Plus and get a 16GB iPhone 6s Plus for $100, or trade an iPhone 6 or 6s and get the 16GB iPhone 6s Plus for $200.
If you've got an older iPhone, you can take part in the deal, too. You can trade in an iPhone 5, iPhone 5c, iPhone 5s, or iPhone SE to get the 16GB iPhone 6s for $350 or the 16GB iPhone 6s Plus for $450.
Whichever device you decide to trade in, it must be paid off, be able to be powered on, be in working condition, have "Find My iPhone" disabled, and have no cracks on its display.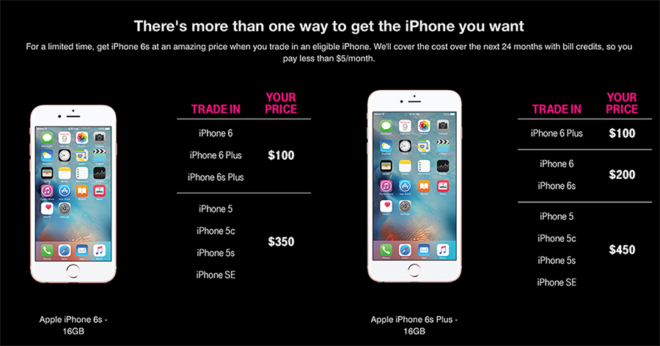 T-Mobile will also let you get an iPhone with more storage if 16GB isn't sufficient. You can get a 64GB model for $100 extra or a 128GB variant for $200 more.
This deal is available to new and existing postpaid customers. You can take advantage of the offer online, in stores, or through telesales. No matter which you choose, though, you'll have to get your new iPhone on EIP. Once you get your new phone, the offer will be applied via bill credits. If you cancel service before your 24-month EIP is up, you'll owe the remaining balance on your iPhone.
Finally, T-Mo says that this iPhone trade-in deal can't be combined with other offers.
The iPhone 7 is expected to be announced in early September and then released in mid-September, but some folks may not be interested in Apple's next phone based on the rumors that've been surrounding it. For example, it's rumored that Apple will ditch the 3.5mm headphone jack on the iPhone 7 and that its design will be fairly similar to the iPhone 6 and 6s. If you've got an older iPhone and don't find the iPhone 7 appealing based on these rumors, you could take advantage of this trade-in offer and get a deal on an iPhone 6s or 6s Plus.
T-Mobile's iPhone trade-in offer launched today, August 24, and will be available for a limited time.