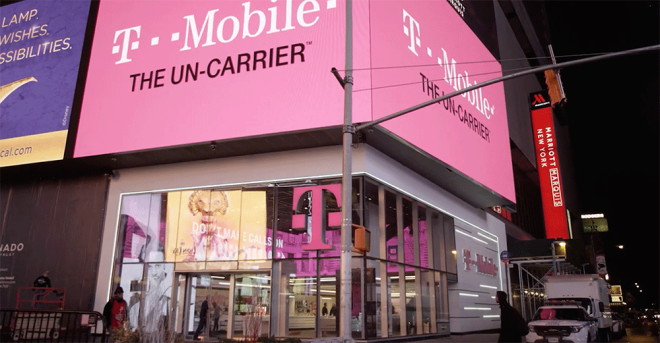 After dropping some details on T-Mobile's AWS-3 spectrum deployment plans, T-Mo's Nils Paellmann is back today to talk more about the Un-carrier's upcoming plans.
Speaking at an investor conference, Nils Paellmann, T-Mobile's Vice President of Investor Relations, touched on T-Mo's plans to expand its retail stores. Paellmann explained that T-Mo doesn't currently have distribution everywhere that it has LTE service, but that it plans to add another 400 stores this year:
"We're looking at expanding our distribution footprint by another 30 to 40 million POPs by the middle of next year. That's not coverage expansion, that's just expansion of the footprint of the stores. We had at the end of last year about 3600 postpaid stores and we have said that this year we want to expand that by 400 stores, taking that to about 4,000 by the end of this year."
Paellmann also talked about T-Mobile's low-band spectrum deployment plans, saying that T-Mo is building out 70 million POPs worth of low-band coverage and that a large part will be completed this year. Paellmann did say that Chicago and its 11 million POPs are expected to be completed in 2017, though, because the the deal that includes Chicago's spectrum won't close until the fourth quarter of 2016.
Finally, Paellmann talked a bit about the iPhone 7. "We always look at these iconic devices as a big opportunity to potentially gain market share," Paellmann said when asked about Apple's next smartphone. "We've seen in previous cycles that when industry churn goes up, we do well because we tend to be a share taker." He added that he feels that when people get a new device, it's an opportunity for them to consider changing carriers.
Via: WirelessWeek
Source: Oppenheimer