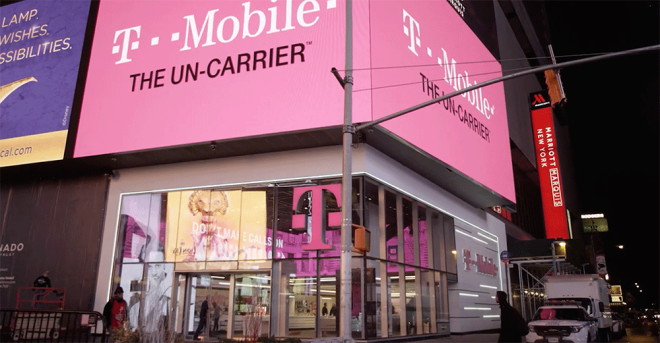 UPDATE: T-Mobile CTO Neville Ray teased during today's Q1 2016 call that we should start to see 4×4 MIMO this year as well as 3-way carrier aggregation in some areas around mid-year.
The numbers for Q1 2016 are in, and T-Mobile had itself another solid quarter.
T-Mobile reports that it added 2.22 million customers in the first three months of 2016, which is its 12th straight quarter of adding more than 1 million customers and the 6th time in the past 7 quarters that it added more than 2 million. To compare, T-Mobile added 1.82 million customers in Q1 2015. T-Mo attributes that growth to higher prepaid additions, which finished at 807,000 (up from 73,000 in Q1 2015) thanks to MetroPCS promos, as well as higher postpaid mobile broadband adds. Postpaid phone churn for Q1 2016 finished at 1.33 percent, which is up slightly from the 1.30 percent churn that T-Mo posted in Q1 2015.
At the end of Q1 2016, T-Mobile had 65.5 million total customers, up from 56.84 million in Q1 2015.
Turning to financials, T-Mobile pulled in $6.6 billion in service revenues for the quarter, up from $5.8 billion in Q1 2015. Total revenues finished at $8.6 billion, which is up from $7.8 billion one year ago, and T-Mobile says that it finished Q1 2016 with a net income of $479 million.
T-Mo also gave us an update on its network today. There are 308 million POPs covered by T-Mobile 4G LTE, which includes partner LTE coverage, and Extended Range LTE now covers 194 million people in more than 340 markets. T-Mobile also reports that it's agreed to buy some more 700MHz A-Block spectrum licenses that'll increase the coverage of its low-band spectrum holdings from 210 million POPs to 258 million POPs. However, T-Mo didn't disclose where those spectrum licenses are located.
Other tidbits of note include the news that T-Mobile sold or leased 9.4 million devices in Q1 2016, including 8.8 million smartphones. Meanwhile, John Legere has teased that Un-carrier 11 is "coming soon."
7/ We're expanding our network like crazy, participating in the spectrum auction, adding stores AND #Uncarrier 11 coming soon! @TMobile #FTW

— John Legere (@JohnLegere) April 26, 2016
So yeah, overall it looks like T-Mo had itself another nice quarter, especially when it comes to prepaid, which saw its adds grow 11 times year-over-year. It's also exciting to hear that T-Mobile has scored more 700MHz licenses, as that means that we're going to see more band 12 LTE goodness rolled out once the deals close. It remains to be seen which parts of the US will benefit from these new licenses, but it likely won't be long before that info is discovered.
T-Mobile will host its Q1 2016 earnings call at 8:00 am ET this morning, and as usual, I'll be listening in to hear any other bits of news that John Legere and Co. have to share.
Source: T-Mobile