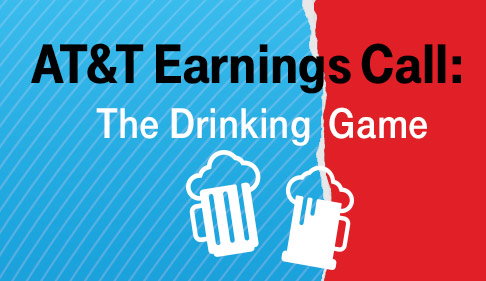 After making Verizon's Q4 2015 earnings call a bit more interesting by turning it into a drinking game, T-Mobile has decided to do the same with tomorrow's AT&T earnings call.
AT&T is holding its Q4 2015 earnings call tomorrow at 4:30 pm ET/1:30 pm PT, and in advance of the announcement, T-Mobile has released a new drinking game to help spice things up. As before, there are different drink levels, with each tier having increasingly unlikely events that, if they do occur, will task you with taking more drinks.
At the one drink level are some pretty likely scenarios, like AT&T mentioning "profitable growth," "bundling" services, or the "internet of things." T-Mo recommends taking one drink for every IoT mention, though. If you hear Big Blue make a joke about Donald Trump and Mexico, mention Project Agile — an effort to optimize costs and simplify offers — or "hide phone losses under a mountain of cheap connected cars and free tablets," you'll need to take two drinks.
Moving on to the more drink-heavy tiers, you'll need to take three gulps if AT&T says that it "can't handle the pressure" and abandons wireless, calls its customers "people" rather than "economic units," or if AT&T CEO Randall Stephenson shows up for the call. And if AT&T admits its logo is the Death Star, ends overages, or appoints Lily its new CEO, you'll have to finish your entire drink.
Since AT&T's earnings call is later in the day than Verizon's, this drinking game might be one that more folks can participate in, especially on the East Coast. Because of that timing, though, you might want to avoid using espresso for AT&T's drinking game like John Legere did with Verizon's drinking game, otherwise you might find yourself having trouble getting to sleep.
One other note is that Sprint is hosting its own earnings call tomorrow, with its fiscal Q3 2015 results set to be discussed at 8:30 am ET/5:30 am PT tomorrow. Apparently John Legere and Co. don't feel like making a drinking game for the earnings call of the carrier that they passed, though.
Source: T-Mobile