After ending 2015 with some Un-carrier Unwrapped gifts for T-Mobile customers and switchers, it looks like T-Mo is planning to kick off 2016 with a new hardware promotion.
According to some photos sent in by a tipster, T-Mobile is going to launch a new Buy One, Get One promo tomorrow, January 27. With this deal, folks that buy one qualifying smartphone can get another for half off. The phones that qualify for the deal include the Samsung Galaxy S6, Samsung Galaxy S6 edge, Samsung Galaxy S6 edge+, Samsung Galaxy Note 5, LG G4, LG V10, iPhone 6, iPhone 6s, iPhone 6 Plus, and iPhone 6s Plus. So, for example, you can get a 16GB iPhone 6s Plus for $749.99 and then a second 6s Plus for $374.99, or an LG G4 for $399.99 and a second G4 for $199.99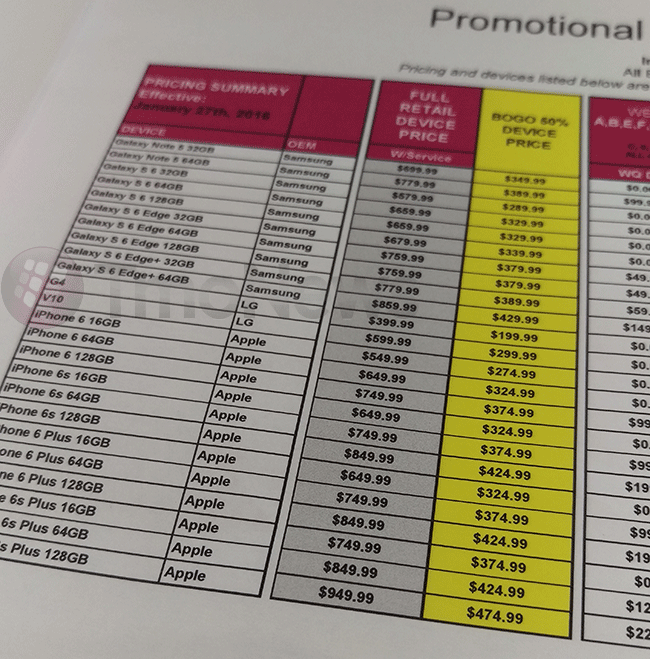 Whichever devices you choose, you'll need to buy them with an equipment installment plan or for full retail price. The documents also note that T-Mobile requires an active line on each device sold and that, if you return a device, you'll forfeit the 50 percent off price on the other phone.
Other tidbits to know about this offer include that it's available to both new and existing customers and that the offer isn't available for Certified Pre-Owned (CPO) handsets. Also noted in the docs is that the half-off discount will be applied to the less expensive phone and that customers can't mix and match phone manufacturers. "For example, Apple to Apple is okay. Apple to Samsung is not okay," one document reads.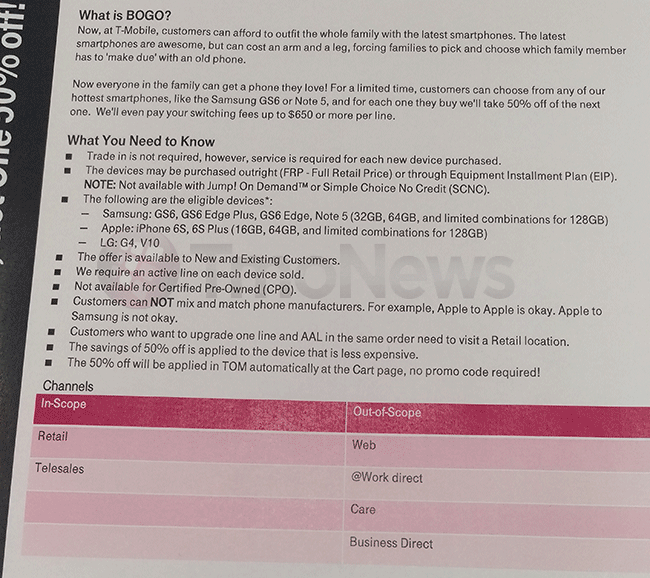 This BOGO promo is slated to launch Wednesday, January 27, and right now there's no word on when it might end. Based on what we know so far, it sounds like a good deal for folks that are interested in getting a new phone for themselves and a loved one. What's nice is that it includes most of the high-end smartphones available today, like the iPhone 6s and LG V10. There are some aspects of the deal that are disappointing, like the fact that the BlackBerry Priv isn't included and that there's nothing here for JUMP! On Demand customers, but overall this promo looks like a nice way for T-Mo to start 2016.
Thanks, anonymous!