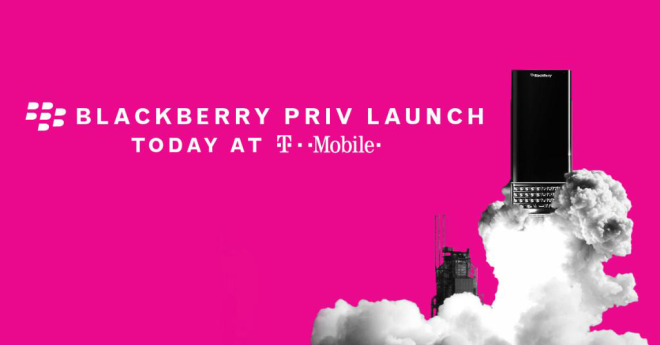 Months after rumors suggested that the BlackBerry Priv might launch at T-Mobile, the Android slider has officially hit Magenta's shelves.
You can now buy the BlackBerry Priv from T-Mobile's online store, and you should also start seeing it in your friendly neighborhood T-Mo store. Full retail pricing for the Priv is $719.99, but if you'd rather not pay nearly one thousand Benjamins all at once, you've got a couple of other buying options.
First up, you can get the Priv through JUMP! On Demand, which will see you pay $0 down and $34 per month for 18 months. At the end of those 18 months, you can return the Priv to T-Mo and get another phone or pay off the remaining balance and keep the Priv. T-Mobile also offers an equipment installment plan that'll see you make 24 monthly payments of $30 each. After the final payment, the Priv is yours to keep.
As a refresher, the BlackBerry Priv's spec list includes a 5.4-inch 2560×1440 AMOLED display display, hexa-core Snapdragon 808 processor, 3GB of RAM, NFC, 32GB of storage, and a microSD slot for adding up to 2TB of additional storage. The Priv is also packing an 18-megapixel rear camera with optical image stabilization and a 2-megapixel front-facing camera. Powering the Priv is a 3410mAh battery.
Of course, what really makes the Priv notable is its physical keyboard, which is a feature that's become nearly extinct in the smartphone world. Several of BlackBerry's BB10 phones have had keyboards, but it's been a while since we've seen an Android flagship with a physical QWERTY. So if resting your thumbs on a set of physical keys and proceeding to pound out messages sounds like something you'd be into, maybe pay a visit to your local T-Mobile store to see if the Priv is right for you.
If you already have a Priv or end up buying one, be sure to share your thoughts with all of us!
Source: T-Mobile