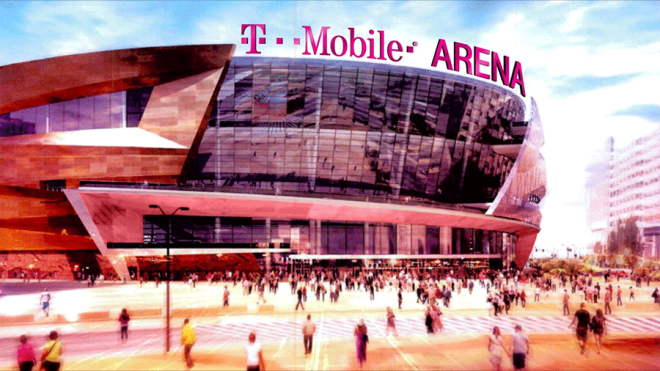 T-Mobile has shown that it likes music events, inviting artists like Shakira and Bruno Mars to perform at its announcements and giving away tickets to concerts. And soon, T-Mo will have its own venue to host concerts and other events.
T-Mobile Arena will open in Las Vegas on April 6. The first show will be performed by The Killers, but T-Mo already has several other big events planned. Those include sporting events like UFC 200 in July, UNLV/Duke college basketball, and the 2016 PBR World Finals, as well as musical acts like George Strait, Garth Brooks, and Janet Jackson.
The exciting news for T-Mobile customers is that they'll get the hookup when it comes to events at T-Mobile Arena. Those benefits will include a fast-track VIP entrance at every event, pre-sales and seat upgrade offers, and exclusive ticket offers and premium VIP experiences at select events.
T-Mobile Arena will hold 20,000 seats and will offer charging stations throughout the concourse. It'll also include Luxury Suites — all 42 of which have been sold — Opera Boxes, Club Suites, and private Bunker Suites.
The arena is located at 3780 Las Vegas Blvd. South, Las Vegas, Nev., 89109. T-Mobile says that it's locked up multi-year naming rights for the venue.
In addition to being all about music, from getting acts to play at events and offering features like Music Freedom, we know that John Legere is a big Ronda Rousey fan. And so considering all that we know about John Legere and T-Mobile, it's not surprising to see them scoop up the rights to have "T-Mobile Arena" in huge magenta letters atop a brand new venue in Las Vegas. The move serves as a nice marketing opportunity for T-Mo, and it works out nicely for T-Mobile customers that'll get special treatment at the venue for being a part of Team Magenta.
Source: T-Mobile