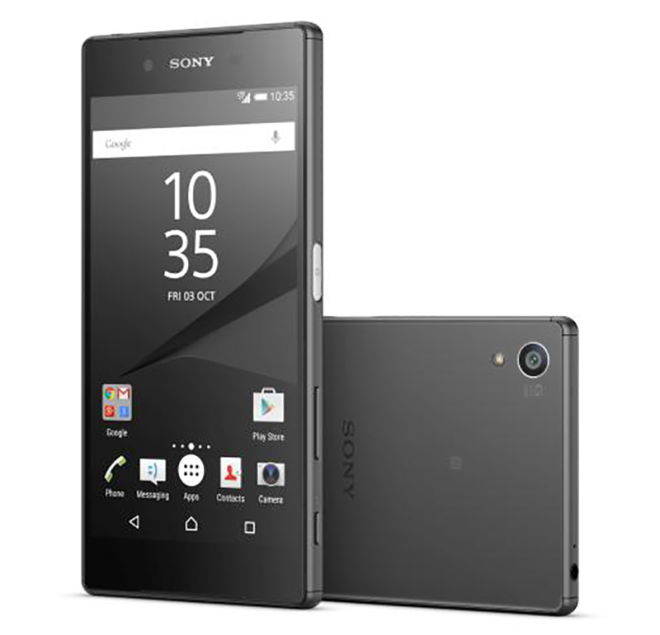 UPDATE: Sony has confirmed to me that the Xperia Z5 and Xperia Z5 Compact models that'll be sold in the US will lack the fingerprint readers found in their international counterparts. Sony says that this was a "business decision."
After Sony announced the Xperia Z5 last year, T-Mobile said that it had no plans to carry the device, despite the fact that it had offered some of Sony's flagships in the past. There's been no indication that that'll be changing any time soon, but starting next month, it will be easier to buy a Z5 unlocked.
Sony says that the Xperia Z5 (shown above) and Xperia Z5 Compact (shown below) will be sold in the US starting February 7. Both models will be sold unlocked through Amazon, Best Buy, B&H, and other retailers, with pricing set at $599.99 for the Z5 and $499.99 for the Z5 Compact.
As for wireless connectivity, here are the bands that the two phones support:
Xperia Z5
GSM/GPRS: 850/900/1800/1900MHz
HSPA: Bands 1, 2, 5, and 8
LTE: Bands 1, 2, 3, 4, 5, 7, 8, 12, 17, 20, 28, 38, 40
Xperia Z5 Compact
GSM/GPRS: 850/900/1800/1900MHz
HSPA: Bands 1, 2, 5, 8
LTE: Bands 1, 2, 3, 4, 5, 7, 8, 12, 17, 20, 28, 38, 40
If you need a spec refresher on the Z5 and Z5 Compact — and you might considering that they were announced in September 2015 — I'm happy to oblige. The two phones actually share many features, like a 23-megapixel rear camera with wide-angle G Lens and SteadyShot video stabilization, 5-megapixel front camera, 32GB of storage, microSD slot, and octa-core Snapdragon 810 processor. The areas where the two Z5s differ are screen size, RAM, and battery. The Z5 has a 5.2-inch 1920×1080 display, 3GB of RAM, and a 2900mAh battery, while the Z5 Compact has a 4.6-inch 1920×1080 display, 2GB of RAM, and a 2700mAh battery. Oh, and both devices have bodies that are IP65 and IP68 rated for dust and water resistance.
While T-Mobile may not be planning to officially sell the Xperia Z5 or Xperia Z5 Compact, at least folks that are interested in Sony's current flagships will have a much easier time buying them next month. They may not be the latest Android smartphones around, but they could still be worth a look for some people. That's especially true for fans of smaller Android phones, as the Xperia Z5 Compact is one of the only Android handsets around that's small but also high-end.