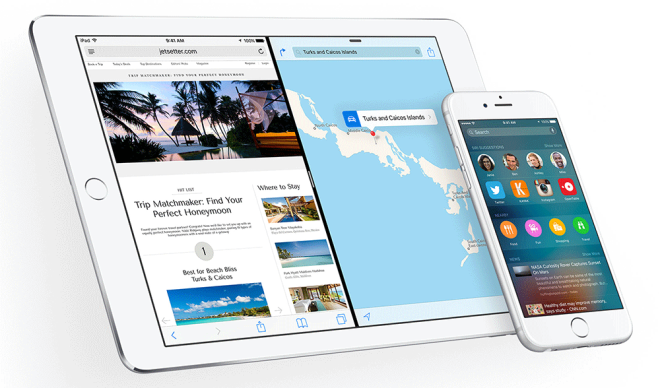 If you're using an iPhone or iPad, it's time to update, because Apple has released a major new version of iOS.
Yes, iOS 9 is now available for download on a variety of devices. Apple's new software is available to the iPhone 6, iPhone 6 Plus, iPhone 5s, iPhone 5, iPhone 5c, and iPhone 4s, as well as the iPad Air 2, iPad Air, iPad 4, iPad 3, iPad 2, iPad mini 3, iPad mini 2, and iPad mini.
iOS 9 adds several notable features to Apple's mobile platform. Siri has been beefed up and will now present things like sports scores and weather after you type in what you're looking for — for example, typing "Packers" will bring up the score of the recent Green Bay Packers game — and Siri will also suggest apps, contacts, and nearby attractions that it'll think you're interested in. There's also a refreshed Notes app with support for sketching with your finger and including photos, an all-new News app (that includes TmoNews!), and an updated Maps app with transit info for select cities.
Also included with iOS 9 are some iPad-specific features, like Slide Over for bringing up small windows for apps like Messages and Notes on the side of the screen. There's also Picture in Picture, which is exactly what it sounds like, and a new split-screen multitasking feature that'll let you run two apps side by side. Some of these features are only available to specific iPad models, though, like split-screen multitasking only working on the iPad Air 2.
To check for the update, you can grab your iOS device and go into Settings > General > Software Update. Some folks are getting a "Software Update Failed" message when they try to update; if that's you, just give it a bit of time and try again.