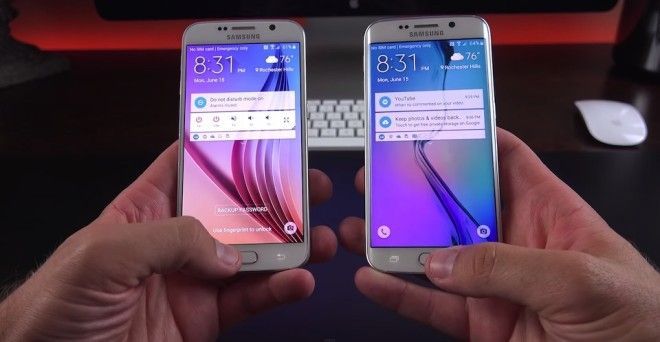 Yesterday, T-Mobile approved and released the Android 5.1.1 software update for its Galaxy S6 and S6 Edge users. At the time there was some confusion about what exactly was in the update. But thankfully, one of our tech-reviewing friends on YouTube was on hand to show us.
Michael Kukielka (better known as DetroitBorg) uploaded a very quick video to his channel showing off the performance and design improvements made in the software.
The most noticeable improvement was the fingerprint scanner performance. Michael shows both phones – one running the previous software – and compares the speed at which the updated device unlocks using just a fingerprint scan. Android 5.1.1 on the S6 also lets you scale down some of Samsung's TouchWiz-ness in the drop-down notification drawer.
For aspiring photographers, there's a key change in the camera user interface which now lets you manually adjust the ISO/exposure levels giving you control over how much light gets to the sensor. It'll undoubtedly help those instances where – like most mobile cameras – it over-exposes a little.
All in all, these look like great incremental updates. But the one big missing feature is Guest Mode. Several publications (including us) announced that the 5.1.1 refresh would come with the ability to sign in friends and family as guests for temporary access. If included, it would restrict the apps and account settings accessible and then wipe the Guest Mode login session shortly after exiting. Sadly, that feature hasn't arrived but it will – apparently – be in the next delta update for both the Galaxy S6 and S6 Edge. Stay tuned for that one.
Thanks to Michael for the video. Be sure to check out his channel for some insanely in-depth product review videos.
Source: YouTube