We've been wondering about the official launch date for T-Mobile's Microsoft Lumia 640 for some time, and now we finally have evidence from one of our sources. T-Mo communicated to staff that the long-awaited budget Windows Phone will be arriving on store shelves in time for a June 17 launch. And it's not coming along. LG's G Pad 8.0 tablet will be released in Magenta-flavor on the same day.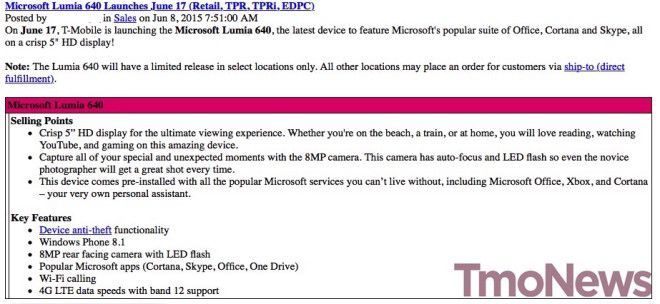 Quite handily, this leak fits in nicely with information Windows Central got from one of its own sources earlier today. Sadly, the phone will only be available in a limited number of stores on the launch date. On a more positive note: Any store will be able to process a ship-to (direct fulfillment) order. In other words, if your local store doesn't have it in stock, they can order one to be shipped directly to you.
As devices go, the handset is great value for money. It has a sharp 5-inch display, an unexpectedly great 8MP camera and impressive battery life. All in a device which we think will come in at (or around) $100-$130.
The second device being launch on that day is what looks like a budget-friendly Android tablet by LG. The G Pad F 8.0 features a 1280×800 WXGA display, a quad-core 1.2GHz processor and 16GB of storage which can be expanded up to an extra 128GB. It has a 5MP camera and supports band 12 LTE to boot.

This communication comes not long after one of our readers got in touch having realized an unusual lineup of new LG G Pad tablets was showing up in his MyT-Mobile account. Like the 640, we haven't seen any pricing for the G Pad F 8.0. But we don't have to wait long to find out.