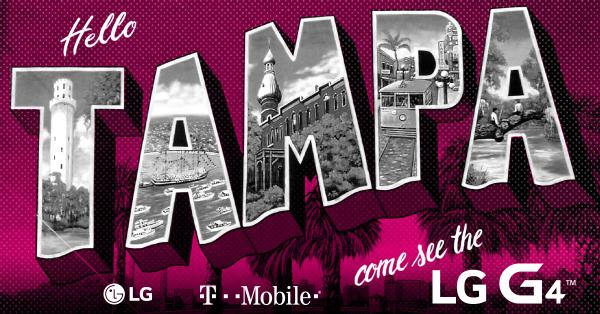 As part of its pre-launch promotion push, LG has been offering a variety of different ways to preview its G4 handset. In the U.S. it teamed up with T-Mobile on an exclusive giveaway and as part of that partnership, it's also going on tour offering demos and giveaways to a lucky few. Next Stops: Tampa and San Antonio
We're on our way to #Tampa! Demo the #LGG4 at Lykes Gaslight Park Mon 5/11 & Tues 5/12 11am-6pm. #G4Preview pic.twitter.com/GWdsq5FpQL

— G4 Preview Tour (@G4Preview) May 8, 2015
On Monday and Tuesday this coming week, the LG G4 Preview Tour team will be rolling up to Lykes Gaslight Park in Tampa offering demos of the device. On both days, the team will be in action from 11am until 6pm giving you most of the afternoon to get down and get your hands on one.
Doubling up on those two days, there will also be a preview truck in San Antonio at Main Plaza.
Attention #SanAntonio: Find us at @MainPlaza Mon 5/11 & Tues 5/12. Be the first to test the #LGG4! #G4Preview #Prizes pic.twitter.com/gdFiG9YwZO — G4 Preview Tour (@G4Preview) May 8, 2015
If you want to follow the action and see if it's coming to a city near year, be sure to keep an eye on the G4Preview tour Twitter handle. Be sure to let us know if you get your hands on a G4 or – even better – if you win one to keep.