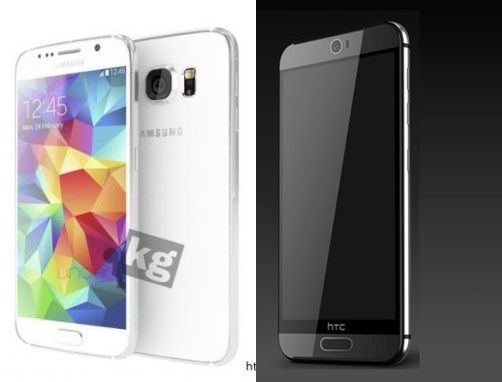 In just under two weeks' time, HTC and Samsung will be unveiling their next generation smartphones at separate events in Barcelona, the day before MWC 2015 officially kicks off. Surprisingly, other manufacturers haven't been as quick to announce an unveiling during the convention. Both LG and Sony will have muted presences in Barca, leaving HTC and Sammy to scrap it out for the "best smartphone of MWC" award.
Rumors have been rife regarding both phones, and if they're to be believed, the Samsung Galaxy S6 could be the first in its family line to have a metal chassis. It's also rumored to feature a QHD resolution display, a 16MP or 20MP camera with optical image stabilization, 3GB RAM and one of Samsung's home-made Exynos quad-core processors. And its "alternative" version could also be the first phone to have a curved secondary screen on both sides of the device.
As for the HTC, the spec sheet seems a little less boastful (based on rumors). It's speculated to have a 5.1-inch 1080p display, a 64-bit 2GHz Snapdragon 810 processor with 3GB RAM and either 32GB or 64GB of internal storage. Unlike the previous Ultra-Pixel lens, we could see a change in philosophy as HTC ups the pixel count to 20MP for the rear camera, shifting the 4MP sensor to the front instead.
Of course, these are rumors for now. But these devices – whatever they end up featuring – will arrive at some point soon. Even if LG's G4 and Sony's Z4 are being launched later in the year, we're fully expecting the One M9 and S6 to be announced in two weeks. We're also 99.9% certain that if/when they're released, T-Mobile will be stocking them.
But the question is: Which excites you most? Does the promise of a metal-framed Galaxy S6 float your boat, or does the continued refinement of the awesome HTC One line get your anticipation sensors tingling? Take part in our poll and let us know which you'll be lining up outside a T-Mo store for.