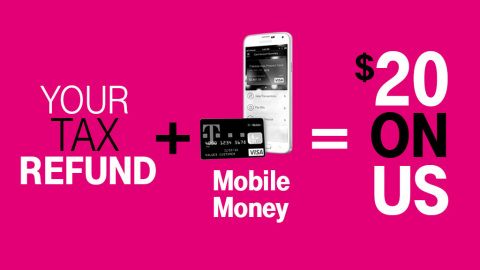 On Twitter first thing this morning, John Legere announced that T-Mobile customers who direct deposit their tax return on to their registered T-Mobile Visa Prepaid Card will receive $20 credit. The Mobile Money tax offer will run from January 14th until April 30th, 2014. That gives you a window of 15 weeks to act on T-Mo's promotion, if you want to take advantage.
"T-Mobile CEO John Legere today announced via Twitter that T-Mobile customers with Mobile Money who set up and receive a direct deposit of their tax refund onto their registered T-Mobile Visa® Prepaid Card will get a $20 credit. Plus, customers can get access to their tax refund faster than a traditional paper check refund. It's free, fast and a more secure – and more lucrative – way to get your tax refund this year."
You may remember, T-Mobile launched Mobile Money roughly 12 months ago, offering an easier and cheaper way to bank. The company's Prepaid Card works exactly like a debit card, with an accompanying smartphone app to help you keep on top of the finances. If you are a T-Mo customer, there are no credit checks before signing up, no minimum account balances and no withdrawal fees at a network of 42,000 ATMs. What's more, there are no monthly maintenance fees, and no reload fees at T-Mobile stores.
We're putting our $ where your acct is. Dir deposit tax returns into your #MobileMoney acct and then… $20 credit! pic.twitter.com/1SrMAZbTpe

— John Legere (@JohnLegere) January 14, 2015
If you want to know more about Mobile Money, or the tax refund offer, head on over to T-Mobile.com/mobilemoney.
Source: T-Mobile