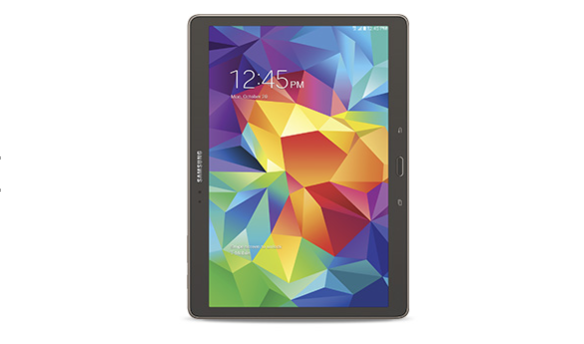 T-Mobile announced today that it will begin selling the Samsung Galaxy Tab S from December 10th. It's going to cost $649.92, and be available on EIP with $0 down payment and 24 monthly payments of $27.08 for well-qualified buyers.
Sporting a 10.5″ AMOLED display with a resolution of 1600 x 2560 pixels, the Tab S boasts one of the sharpest and most vivid screens on the market. It's powered by a 1.9GHz quad-core Snapdragon processor, coupled with 3GB RAM. It's also equipped with 802.11ac Wi-Fi antennas, and is LTE capable, supporting bands 1 ,2, 3, 4, 5, 7 & 12. Its internal storage isn't particularly generous, at 16GB, but it can be expanded up to an extra 64GB. It weighs just 16.4 ounces, and has an 8MP rear camera.
You can – of course – add a tablet and match the data on your Simple Choice plan for $10 (up to 5GB per month). And you still get the free 200MB data for life on top of that. The product page is now live, so be sure to check it out in more detail.
Are you planning on picking one up?
Source: T-Mobile