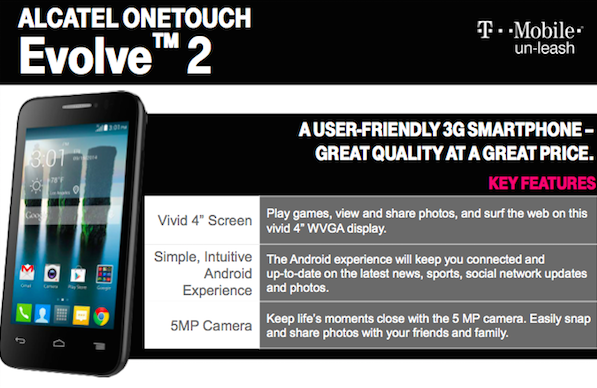 T-Mobile and MetroPCS announced late last week that a pair of new budget-friendly devices would be making their way over to store shelves. Both Android-powered Alcatel phones will be sold from next week. The OneTouch Evolve 2 will be available from September 9th (Apple event day) and cost  $79.20 full-retail, or $3.30 for 24 months on EIP. The OneTouch Fierce 2 is slightly more expensive at $5.25 per month, or $126 full retail price.
An internal memo to staff reads as follows:
ALCATEL ONETOUCH Evolve™ 2

Beginning September 9, T-Mobile will be launching the ALCATEL ONETOUCH Evolve™ 2! This affordable smartphone comes complete with a vivid 4″ screen, 1.3 GHz dual core processor and 5 MP camera.

ALCATEL ONETOUCH Fierce™ 2

T-Mobile is adding another device to their smartphone line up! Beginning September 10, the ALCATEL ONETOUCH Fierce™ 2 will become available to customers. This phone is designed for customers who want a new, capable smartphone and at an affordable price. It features a vivid 5″ screen, 1.2 GHz quad core processor, 5 MP camera and HD camcorder!"
Along with the brief lowdown on these new, cheap devices, T-Mobile also sent out a couple of cheat-sheets to help staff better position the devices. Or at least, understand what's good/different about them, and who they're perfect for.  Essentially, they're both cheap devices aimed at people who don't have a lot to spend or haven't used a smartphone before. While many of us tech-heads wouldn't even consider anything other than a flagship device, there is still a sector of the market that only has a smartphone because it's deemed necessary, and will only spend what they have to.
In terms of key differences, your extra $50-ish on the Fierce 2 will get you a bigger display, faster processor, faster network capabilities (although neither comes with LTE), HD video recording and an LED flash for your camera.
Via: T-Mobile