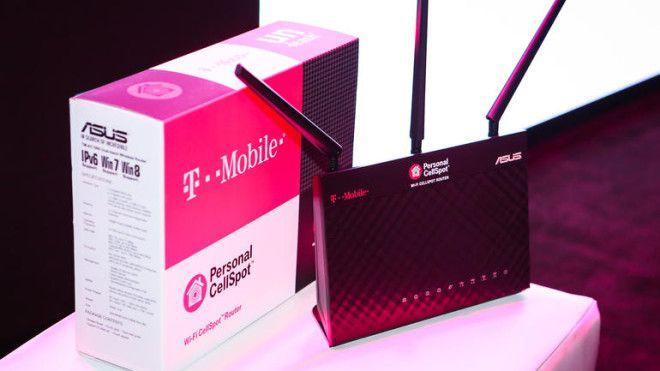 We've received information from sources that T-Mobile's plan to make both the new Personal Cellspot Router and LTE Signal Booster available today hasn't come to fruition. Instead, retail staff are being advised – tentatively – that POS enhancements and system updates will be pushed on Friday, September 26. It could be later than that, but that's the day they're aiming for.
Each account – we're told – can have 2 CellSpot devices. Particularly helpful if customers have coverage challenges at both home and work. As you probably know, there are two devices branded with T-Mobile's "Personal Cellspot" moniker. One is the ASUS-made wireless router that optimizes the wireless connection for Wi-Fi calls and texts. (It's essentially the ASUS RT-AC68U router with some proprietary technology baked in.) The other is an LTE Signal Booster.
Both router and signal booster have the same $25 deposit requirement for postpaid customers. There's no monthly fee, and the device must be returned if service is terminated. For those looking to buy one – because they're on prepaid or non credit-checked accounts – the LTE Signal Booster will cost $289, which may seem like a lot, but is far less than Nextivity's direct price of $575. As we know, prepaid customers can buy the Wi-Fi Router for $99. [Check the Updates below. You won't be able to buy the Signal Booster at all, it seems. That information is incorrect] 
Oddly, it seems that postpaid customers won't have the option to buy either device from T-Mobile. The retail systems will only allow them to rent for free, with a deposit.
So who gets which device? Staff are trained to make recommendations based on specific criteria. Top of the list is Wi-Fi calling capable handsets. If you have one, they'll push you towards the ASUS-made Personal Cellspot router, unless you don't have a fast broadband service at home or work. CellSpot Signal Boosters that use a weak LTE signal and boost it within your home will only be offered to customers who don't have a Wi-Fi calling capable handset, or those without a fast broadband connection.
As always, let us know if and when you receive them. And if you manage to grab one from a store.
UPDATE: T-Mobile got in touch to clarify a few things, officially:
1)      Customers can still go into a store (or call care) can get a Personal CellSpot shipped directly to their house without the $25 deposit. So while you can't go pick one up at a retail location, you can get it sent to you.
2)      While we absolutely make exceptions, customers can get one Personal CellSpot per account.
3)      We don't sell the LTE Booster.  Customers who can benefit from one can get it, of course, at no extra cost, but if you want to buy one outright for list price, you have to go to Nextivity.
Looks then, like the LTE Booster will be subject to exactly the same conditions as previous devices. They're an option for customers with low LTE signal at home, and who can't benefit from Wi-Fi calling.