We have two bits of really interesting information to share with you today in regards to T-Mobile's plan to bring great coverage to everyone, both indoors and outdoors. And we'll begin with the new stuff first, and perhaps the most interesting from a networking perspective.
Buried within T-Mobile's site is a reference to an unreleased Femtocell product. For reference, these work in a similar manner to microcells offered by other carriers. Unlike T-Mo's current Cel-Fi signal booster, it doesn't use existing HSPA/3G signal and amplify it within your home. Instead, this product will use your high-speed home broadband to create a mobile 3G signal within your house. The only requirement usually is that your home broadband is capable of a minimum download speed which can vary from carrier to carrier.
It showed initially as an "Askey Wi-Fi Cellspot Router":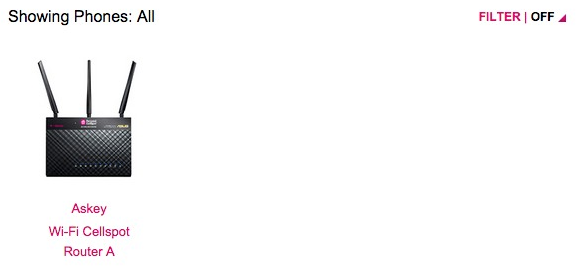 However, once you zoom in to the tiny image (available here in T-Mo's cache), you can see clearly that it's an ASUS-made product, with T-Mobile's logo and the "Personal Cellspot" branding stuck on.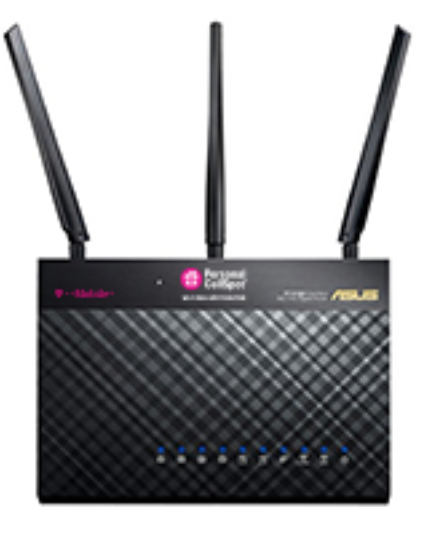 Of course, many tech-enthusiasts will have recognized the shape and design of the router as being one made by ASUS, without zooming in. It looks very similar to the RT-AC66U/R or RT-AC68U/R wireless routers made by the popular PC maker. Putting two+two together it looks like it's one of those, but with an added built-in cell signal transmitter. So it's not Wi-Fi calling, or UMA like the old BlackBerry phones used to have. It's a mini cell-site in your house.
Now we've not heard any more specifics from any sources (yet) but it would appear that T-Mobile is planning to have this router available to customers in areas where they struggle to get good signal indoors. This is important because – currently – Cel-Fi boosters can only be offered to customers who get at least one bar of coverage in their area. The ASUS Cellspot won't need pre-existing signal. A very big deal for customers in 2G/EDGE-only areas. Typically these microcells/femtocells are 3G/HSPA only, which means we almost certainly won't see an LTE model.
As for the router itself, these are some of the best Wi-Fi routers on the market with 802.11 a/b/g/n/ac, with incredible range and multiple channels to ensure a great experience from all your compatible devices.
Specifics – as I mentioned – are unclear. I don't expect these to be available to purchase in store. But I could be wrong on that. With the current crop of signal boosters, T-Mobile won't proactively offer them to anyone unless it's clear they can't make do with just Wi-Fi calling. In fact, I'd guess that only a very small percentage of people would qualify for one of these Cellspots.
.
LTE-capable Cel-Fi signal booster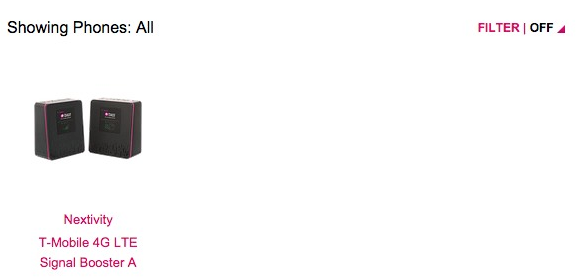 I won't ramble on too much on this one, since we already found evidence of the next generation signal booster by Nextivity in some FCC filings and on the company's own site. However, further evidence has emerged in a similar manner as the ASUS Cellspot.  Head on over to this link, and you'll see the official image (albeit a tiny one) of the next generation Cel-Fi signal booster. Compare that with the official images from the FCC filing, and you'll see it's the same device.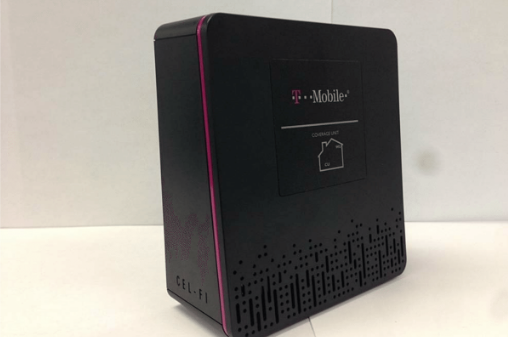 Since new signal boosters aren't ever officially announced by T-Mobile, I wouldn't expect any form of public unveiling. After all, the company doesn't like to shout from the rooftops that you can get a signal enhancing product for free (if you meet specific criteria).
We'll keep our ears to the ground and wait to hear more. If we do, we'll be sure to update you on these.