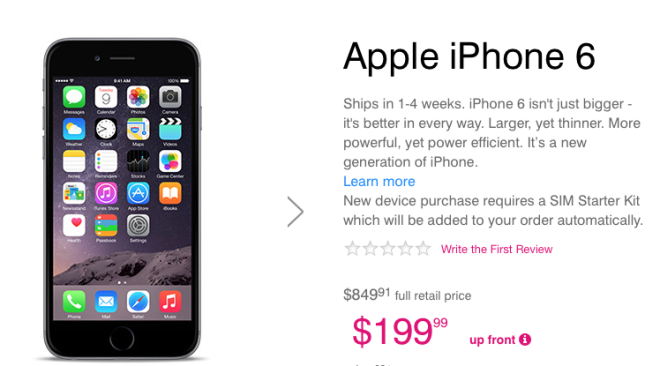 Just in case you somehow forgot, T-Mobile started selling the iPhone 6 and 6 Plus in stores and online this morning. And after the eventful pre-order systems meltdown, let's hope the actual launch is going a little more smoothly.
Prices start from $649 for the iPhone 6, with 16, 64 and 128 GB storage models available. The iPhone 6 Plus is $100 more, thanks to its much larger, higher resolution display. Both are available on EIP, and how much you pay up front is dependent on which category you go far. Both 16GB models are available for $0 down. 64GB and 128GB need a minimum $100 and $200 down payment respectively.
We're not sure what stock levels are like everywhere, but we've heard reports from readers of low (or non-existent) iPhone 6 Plus stock in stores. For a full rundown on the two new devices, catch up on our takeaway from the Apple event last week. And if you weren't sure why you should be picking T-Mobile, check Mike Sievert's blog on why his company is best.
We'll have a post up with our first impressions of the iPhone 6 Plus soon. But in the mean time, let us know if you're planning to pick one up, or if you were unable to due to stock levels. Use the comments, or sound off on Twitter: @PhoneDog_Cam