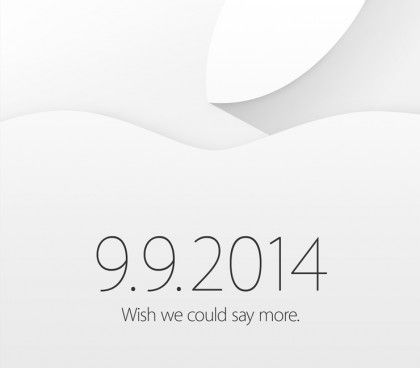 Earlier today, Apple finally sent out official invitations to a special event it's holding on September 9th. The invite said very little, and didn't give any of the usual clues we might try to find in a cryptic Apple invitations. "9.9.2014" and "Wish we could say more" is the extent of the message. That, and part of the iconic Apple logo in the background.
Many pundits looking in to things far too deeply would suggest that "say" could mean Siri's getting a major update. But, I really don't think that is the case. This is Apple doing its best to keep a secret. Something it's finding extremely difficult in recent years following the success of renowned Apple-leakster Mark Gurman, and the hundreds of prototype and dummy leaks that have been published over recent months.
Of course, we're expecting Apple's next iPhone to be announced in – perhaps – two different sizes. And recent reports from well-renowned tech journalists have stated we're to expect some form of wearable device too. Whether it's called the iPhone 6 or something else entirely, it'll certainly be available on T-Mobile. With an announcement taking place on September 9th, and using previous years' patterns, we can expect it to go on sale about 10 days late on Friday, September 19th.