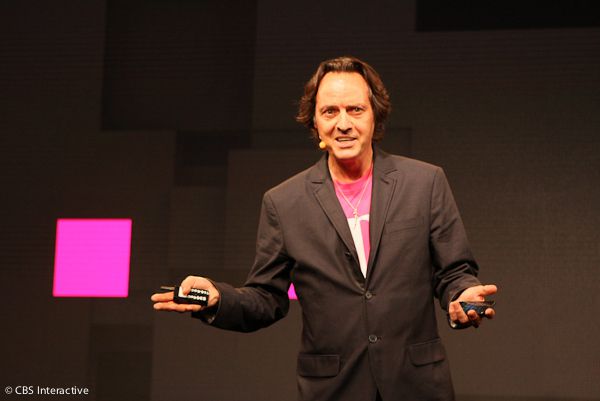 As expected, T-Mobile has responded to the allegation from the FTC that it has been adding "bogus charges" to customer accounts, and profiting from premium SMS services unwanted by customers. Like I mentioned in the post initially, T-Mobile announced back in November that it is doing away with premium SMS charges, and recently launched a program to refund those charges. It's along those lines that T-Mobile responded to the FTC claim, stating that the allegation is "unfounded and without merit."
In a post written and published by John Legere, the company outlines its beliefs that the accusation is one that needs to be aimed at the industry as a whole, not at T-Mo individually, especially not following the carrier's plan to get rid of premium SMS charges completely.
The full press release is below:
"We have seen the complaint filed today by the FTC and find it to be unfounded and without merit.  In fact T-Mobile stopped billing for these Premium SMS services last year and launched a proactive program to provide full refunds for any customer that feels that they were charged for something they did not want.  T-Mobile is fighting harder than any of the carriers to change the way the wireless industry operates and we are disappointed that the FTC has chosen to file this action against the most pro-consumer company in the industry rather than the real bad actors.

As the Un-carrier, we believe that customers should only pay for what they want and what they sign up for. We exited this business late last year, and announced an aggressive program to take care of customers and we are disappointed that the FTC has instead chosen to file this sensationalized legal action.  We are the first to take action for the consumer and I am calling for the entire industry to do the same.

This is about doing what is right for consumers and we put in place procedures to protect our customers from unauthorized charges. Unfortunately, not all of these third party providers acted responsibly—an issue the entire industry faced.  We believe those providers should be held accountable, and the FTC's lawsuit seeking to hold T-Mobile responsible for their acts is not only factually and legally unfounded, but also misdirected. "
It'll be interesting – to say the least – to see where this case goes now. This is an industry wide issue. Although it may seem like using T-Mobile as a scapegoat, it's more about using T-Mobile as the example to the industry, because of the attention it's been getting recently. As noted by Business Insider:
T-Mobile is a good target for the FTC in its battle against cramming. To be clear, T-Mobile probably isn't the only carrier that's cramming. But the company's marketing message has been to eliminate "pain points" like contracts and overage charges. Filing charges against T-Mobile will likely resonate more with the public and draw more attention to cramming practices.
It's not the last we're going to hear of this. What do you make of this action by the FTC? Have you seen any of these charges on your bill without subscribing?
Source: T-Mobile
Last quote: Business Insider