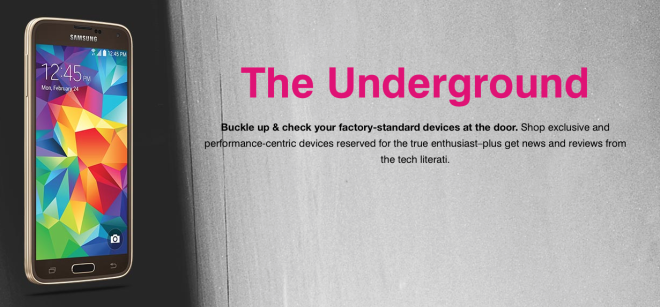 In an effort to point more tech enthusiasts in the direction of products with limited availability, T-Mobile has launched a new section of its online presence dubbed 'The Underground'. Devices like the limited Copper Gold Galaxy S5 will be heading their way over, as will other unique gadgets. If you want to head right over and stop reading now, you can do so: Just hit this link.
Along with highlighting and letting consumers "shop exclusive and performance-centric devices reserved for the true enthusiast", it'll also offer "news and reviews from the tech literati."
Having browsed through and had a quick look-over, I have to say, I like it a lot. When you're shopping, it's nice to feel like you're grabbing something a bit special. And it's the same when you're buying online. Having a fixed position on T-Mobile's site to highlight and feature those special devices will not only give the consumer a more pleasing experience, but also help T-Mobile sell more limited products. What I also love is that it encourages you to get in touch with the company's product guru, Des (@askdes on Twitter). Honestly, it's just nice having such a large company giving you a way to contact an actual person, instead of the usual, blanket official company handle.
I'll look forward to seeing how the site develops over time.