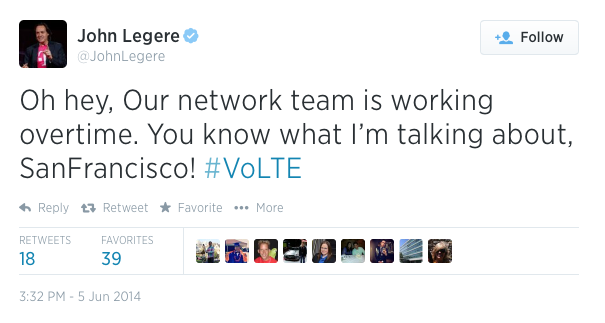 Following John Legere on Twitter – apart from being entertaining – can often be a good place to spot what our favorite carrier is up to next. Yesterday afternoon he tweeted what you see above. Seemingly confirming that VoLTE is up and running in San Francisco. If any of you in the area rocking a Galaxy Note 3, LG G Flex or Galaxy Light can confirm that it's up and running, be sure to get in touch with us.
On that note, we've also been sent evidence that the network is also active in Fremont, California.
It's pretty encouraging to see T-Mobile rolling the service out so fast. So far we've heard that it's active in New York City, Chicago, San Francisco, California, Dallas and Houston as well as the officially confirmed Seattle. Pretty good going by the network team. I'd give them a round of applause, but, they wouldn't hear it. Good job network wizards!