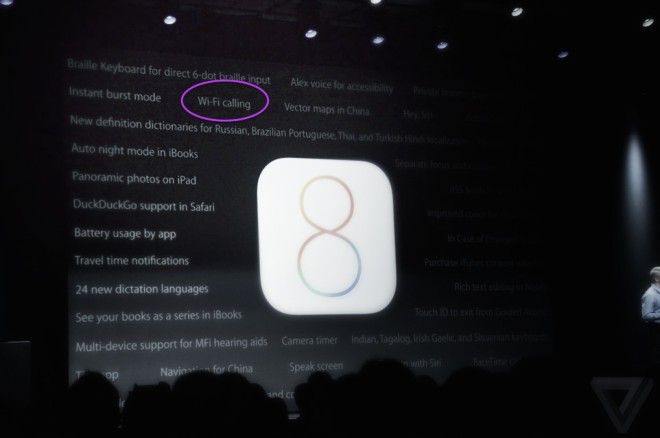 There's a sentence to make any T-Mobile fan skip a beat: Wi-Fi calling is an upcoming feature within iOS 8. Although it wasn't among the main, highlighted features at the WWDC 2014 opening keynote, it was shown as a feature in the overview screenshot shown above.
Exactly how Wi-Fi calling will be implemented is yet to be seen. It's very unlikely that T-Mobile phones will come preloaded with an app, or even a downloadable T-Mobile app from the App Store. If I had to guess, I'd assume it was a feature you could access from the Settings connectivity options. And – of course – there's no guaranteed that T-Mobile iPhones in the US will have the feature enabled. But, the very fact that it's going to be possible from iOS 8 devices is enough to get us salivating.
As for the rest of iOS 8's improvements and main headline features, check out my roundup post from earlier.
UPDATE:
Well, that didn't take long! Mike Sievert just published a new blog post at the usual location, stating that T-Mobile would soon be able to welcome iPhone users to its Wi-Fi calling group.
"…with the news coming out of Apple's keynote today that Wi-Fi Calling will be enabled with iOS 8 – I'm excited to welcome our iPhone customers to the convenience and ease of T-Mobile Wi-Fi Calling as well.
 
When that happens, over 90 percent of all T-Mobile smartphones will feature Wi-Fi Calling. "
Exactly how that's going to look, I'm not sure. But, I'll try to find out.