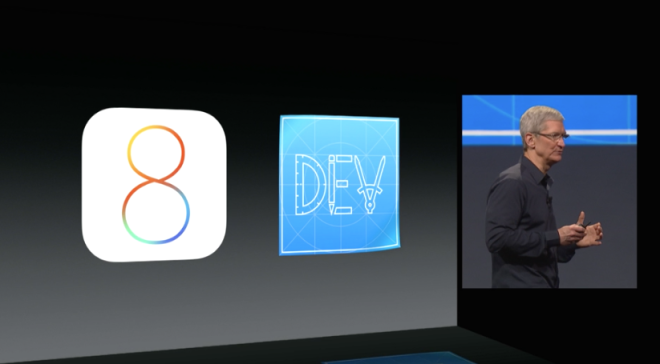 Apple has just kicked off its WWDC week at the Moscone West Center in San Francisco and has done so in style. But it wasn't the end user iOS 8 announcement itself that got me excited. It was all developer SDK and API announcements and the potential that they hold for the future of apps and capabilities within iOS 8.
As an update on user install base, iOS 7 is currently installed and being used by 89% of iOS users. Which is – quite frankly – insane. Apple was happy to point out the difference between that user base, and the 9% of Android users who are using KitKat. And with iOS 8, the company is "not standing still" as Tim Cook put it.
Notifications – Much needed improvements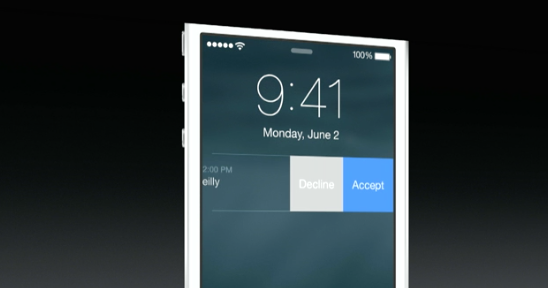 iOS 8 will be bringing with it some much needed, and long-desired improvements. Chief of which is the interactive notification feature. If you're using an app and get a text message from a friend, you can drag down on the notification banner on top of the screen, and reply right from the window without leaving the app.
You can interact with notifications on the Lock Screen too. If you're invited to an event through the calendar app, you can accept or decline the event invitation by swiping across and hitting "decline" or "accept", without needing to unlock your phone. Third parties can make use of it too, so you can "like" a friend's status update on Facebook without going to the Facebook app itself.
In the developer focussed section, Apple also announced that third party developers will be able to extend their apps to make use of Notification Center's "Today" view, and let you have widgets with information you want to see there. You could – for instance – use it to show you sports scores and results right within Notification Center.
Double Tap – Multitasking UI extra features

In iOS 7, when you double tap the home button, you go to the multitasking screen to switch between apps. With iOS 8, you also see your most recent contacts in a row of profile thumbnail images along the top. Dragging sideways on those will let you quickly contact them using messages, a phone call, email or FaceTime.
Mail – New Gestures and Draft Hiding

With Mail in iOS 8, you'll be able to quickly flag, mark as read or trash an email or conversation using a sideways swipe in the inbox. What's perhaps more impressive, as demonstrated on an iPad, is the ability to hide an email you're working on by dragging it down to the bottom of the screen. Particularly handy if you need to check up on some information you might have in another email in the app.
Spotlight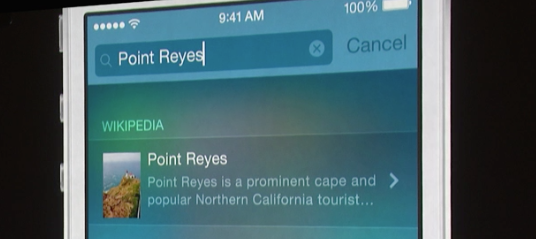 Spotlight has been updated to add some great new features. It can search for apps on the App Store as well as ones on your phone. The same is true of music and movies. But, it'll also hook up with web services like Wikipedia to find you information, and give you that information right within the Spotlight search interface. This feature set appears within the search bar in Safari too.
Keyboard – FINALLY!

There were two great pieces of news on the keyboard front. In both ways, it's pretty much the same as SwiftKey, except that all your data is stored securely on the device and not shared with anyone else. Apple's stock QuickType keyboard now learns from your typing within each individual app and shows prediction suggestions above the keyboard interface. It can detect when you use more formal language, in a work email for instance, or when you use more casual language in another app like Messages, Facebook or WhatsApp and offer up relevant suggestions.
What's more, the improved developer kit will allow developers to offer up third party keyboards like Swype, SwiftKey, Minuum and the like, so you can install your preferred keyboard if you don't like Apple's.
Continuity
A big part of the announcement was aimed at customers with both Mac and iOS devices. If you have an iPhone, iPad and a Mac, you could start work on one device and pick it up immediately on one of the others. Each automatically picks up nearby devices (owned by you) to offer this seamless continuity feature, dubbed 'Hand Off'. On Mac, the icon shows up automatically in your dock when you start working on your iPhone or iPad. On iOS, it shows up as an icon on the bottom left corner of the Lock Screen. Swipe up from the Lock Screen and go straight to your document/email on your iDevice.
Another part was instant hotspot. If you're using your iPad or MacBook and you're not near a wireless network, you can head to the Wi-Fi settings menu and instantly connect to your iPhone, and use it as a hotspot without needing a password. For those worried about security, it only allows this feature between devices you own personally. No one else will be able to instantly tether from your iPhone. They'll still need you to give them a password, like you would now.
Thirdly, and most importantly for Mac users is that you can now make and receive calls from your Mac if you have your iPhone nearby. It automatically picks up your phone's presence and will let you use it as a conduit to send messages and make calls from your Mac. For me, at least, this is an awesome feature.
Messages – Group, Voice and Video messaging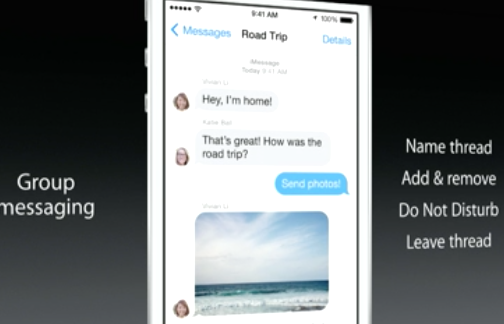 With iOS 8, Apple is aiming squarely at the likes of GroupMe, Hangouts and WhatsApp with its Group Messaging feature built right in to the Messages app. Group messaging features include the following:
Custom name group conversation threads
Add/remove contacts from a group
Switch on "do not disturb" to stop notifications from specific conversations
Access recently shared images and files
Leave groups when you like
Share locations with members of the group
Along with the group messaging features, Apple has also added in the ability to send voice and video messages to anyone with the Messages app. Simply press and hold the audio record button to record a sound-bite, and send it.
If you receive an audio message while your phone is locked, you can listen and reply just by raising your phone to your ear.
Health

Much was made of a rumored "Healthbook" app for iOS 8 before the release, and for the most part, those rumors were correct. Virtually everything but the name was correct. Dubbed 'Health', the app will collect data from third party health and fitness apps and collate it all in to one space. Third party accessory and app makers need to enable this feature for it to work, but it sounds fantastic. So, if you measure your weight with a Wahoo scale, track fitness with a Nike FuelBand and measure your blood pressure or blood sugar levels using other accessories, you can have all the information from those in one Health app. Not 4 different apps.
iCloud Drive
iCloud Drive sounds fantastic and will be available to iOS, Mac and Windows users. You can store files in iCloud Drive from any compatible app and have that data accessible in a bespoke folder on your other devices.
Family Sharing – Share memories, and monitor kids' app downloads
Family sharing lets you add up to 6 family members. You can share apps and multimedia between all the family members. You can share photos automatically in a shared Photo Stream album, and share calendars. One feature that'll sit well with parents is the ability to monitor your kids' app downloads and in-app purchases remotely. If your child tries to download an app from their phone, you're notified on your device and you can "ok" or "deny" the purchase.
Photos – More iCloud storage
With iOS 8, editing photos and adjusting them to make dark images a thing of the past has been made ridiculous simple. You get two sliders. The "light" slider adjusts brightness, highlights, contrast and shadows automatically as you make the image lighter. The "color" slider does the same for saturation, contrast etc.
iCloud storage is on the up too. Instead of being limited to just the 1,000 most recent pictures, all your photos will be available to view in Photo Stream, across all your devices. The first 5GB is free, as it is now. Extra storage is reasonably priced though. For $0.99 per month, you'll get 20GB storage. For $21 you can have 200GB.
Siri – "Hey Siri"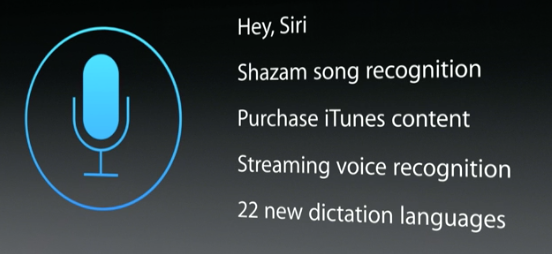 Siri's been improved to add a couple of features I was crying out for. Firstly, if it's plugged in, you can simply say "Hey Siri!" and it'll automatically wake up and listen for your command. Secondly, you can ask it to Shazam music you're listening to without saying "open shazam" first. It also allows you to purchase iTunes content right from within the Siri interface, and has real-time streaming voice recognition.
Extensibility – Boy has iOS needed this!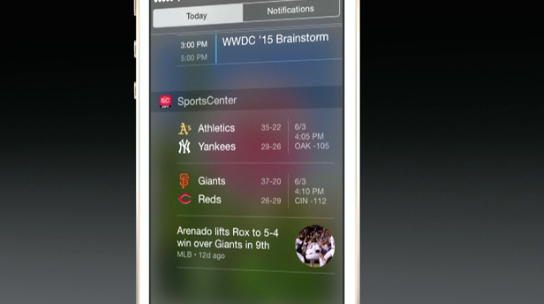 Like I mentioned in a couple of sections already, third party developers are being allowed more room to move within the core iOS experience. Notification Center widgets and keyboards was only the start of it.
App Developers will also now be able to make their services and apps a key part of iOS. You'll be able to choose a third party app to open up a document, or share from the iOS sharing menu direct to Pinterest, or translate selected text using Bing. These are – of course – just examples. But, you could perceivable share a photo direct to Instagram from your Photos app, or open a text document in Microsoft Word. The possibilities are almost endless.
Touch ID is getting included on this too. Third party app devs will be able to make use of the secure unlocking feature on the iPhone 5s, and any future device with the fingerprint scanner built in. Your fingerprint data never leaves your phone, and doesn't get shared with any provider or third party app. Imagine being able to approve a transaction on PayPal, or a transfer from your mobile banking app, just by touching your home button.
Home Kit
Like the HealthKit SDK and Health app, Home Kit brings together all your connected products at home. Products like the Phillips Hue lighting, or Belkin WeMo, Nest thermostat or iPhone controlled door locks won't need to be controlled from individual apps any longer. Instead, the Home Kit allows developers of those devices' apps to bring all the controls and data in to one single iOS 8 app.
Availability
iOS 8 will be available to developers for free from today. Public release will take place later this year, in the fall. Most likely September/October. It'll be compatible with every iPhone from iPhone 4S and later.
Overall
Like I mentioned, I was more impressed by all the third party developer options than I was about the artificial user interface changes in iOS 8. I can't wait to see how developers implement their services and apps right in to the key core iOS user interface. It's going to be fantastic.
Now, where's that bigger-screened iPhone?