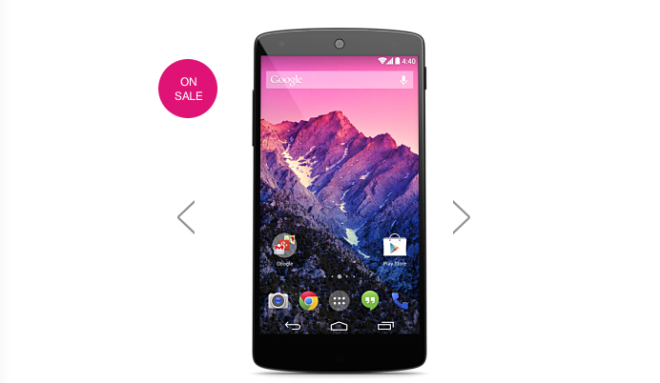 T-Mobile, on Sunday, kicked off a special promotion on its Nexus 5 online. If you buy the device from T-Mobile's online store and enter code NEXUS5PROMO at checkout, you'll get $24 off the price. That'll take it down to an even more affordable $372. Still, some $23 more expensive than the Google Play Store pricing, but you can spread the cost over 24 months using T-Mobile's EIP and get hooked up on a Simple Choice plan too.
For those of you wanting a device running "pure Google" the variety of handsets now available is fantastic. Since Google Play Edition mobile devices started hitting the market, phones like the HTC One and Galaxy S5 have been made available equipped with stock Android. Which is – quite frankly – awesome. But, it's hard to argue that the best value vanilla Android experience is anything other than the Nexus 5. And – unlike GPE model phones – you can buy the Nexus 5 direct from your favorite carrier.
Let us know if you plan on picking up the Nexus 5 for slightly cheaper, or if you have your eye on something else.