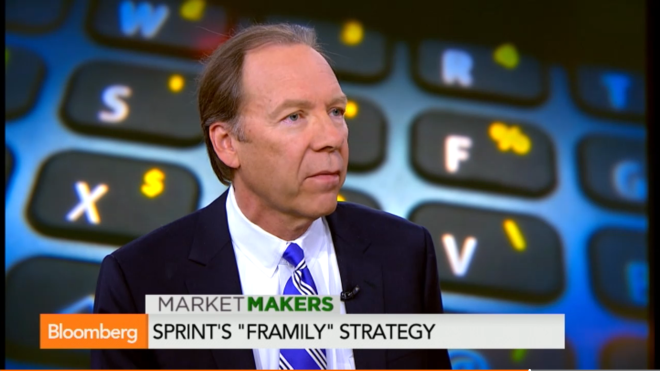 Yesterday, Sprint's CEO Dan Hesse made an appearance on Bloomberg's Market Matters where he discussed a handful of topics, including the rumored merger of Sprint and T-Mobile as well as his competitive relationship with Magenta's CEO, John Legere.
Of course, all of us want to hear from the horse's mouth whether or not there's any truth in the merger rumors. But as you'd expect, Hesse wasn't keen to outright state "yes, it's happening". Instead, he mulled over the potential positives of a merger. Chief among those was that – in his mind – a stronger #3 network is better for the consumer than having a duopoly of Verizon vs. AT&T, plus two weaker competitors.
He stated:
"Right now, I mean, the issue that you have is in the U.S. wireless industry is it really is a duopoly where you have 84% of the EBITDA and basically 100% of the free cash flow out of two companies. Two large companies. So I think the industry would be healthier. You'd have healthier competition with a stronger number 3, and I think, I can't comment specifically on any speculation," Before going on to say, "I think a stronger number 3 would be better for consumers." 
But of course, the regulators are still proving a stumbling block. An issue Hesse is clearly aware of, stating that if a transaction was to go through, that would have to convince the regulators to believe what they and some consumers might already believe, in regards to a healthier market place.
Questions arose on how carriers can remain competitive, and still keep a sustainable and healthy business going. Something T-Mobile will be dealing with as well as Sprint. Being the two smallest of the larger networks, they have to invest more money per customer to achieve national coverage than either Verizon or AT&T, and neither carrier made a profit last quarter. A to remain competitive, you have to cut prices, like Sprint did with its $40 prepaid plan yesterday.
Of course, with competition making its way into the discussion, so did John Legere's name. "Is he a peer or.. worst nightmare?" the hosts quizzed. He had mostly positive things to say about Magenta's CEO, stating "He's doing quite a fine job there." Which I guess sounds a little patronizing, but ultimately complimentary. A recent Twitter jibe from Legere towards Sprint prompted Hesse to comment "I don't think John's ever going to stop egging me on."
If that says one thing, it's that at least one carrier CEO knows how to receive John Legere's public pokes as light-hearted competition. Unlike some, who decide to throw him out of parties and get all upset.
You can view the whole interview below, but, to get back around to it, without confirming or denying it, it's pretty clear that Sprint would like to merge with T-Mobile if the regulators would just allow it.