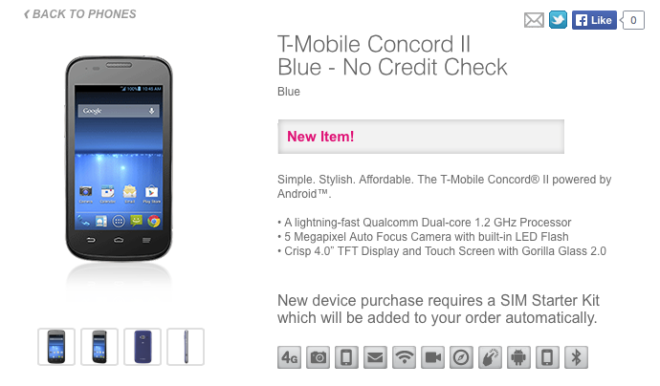 Two days ago, ZTE announced that it's launching the Concord II exclusively on T-Mobile and MetroPCS. Initially it wasn't showing up online, but now it's popped up in T-Mo's online prepaid store. It costs as much as Motorola's recently announced Moto G, at $120. Once you add the SIM starter pack and activation card, that's $160.
It's compatible with T-Mobile's LTE network, features a 5MP camera, a 1.2GHz dual-core processor, 1GB RAM and expandable storage up to 32GB. Sadly, it doesn't have the latest version of Android, and comes shipped with 4.3 Jelly Bean as well as being preloaded with some T-Mo bloatware.
For those interested in a more budget-friendly phone on a prepaid plan, here's the link to check it out in more detail. The Metro PCS version won't be available to purchase for a few more days yet.