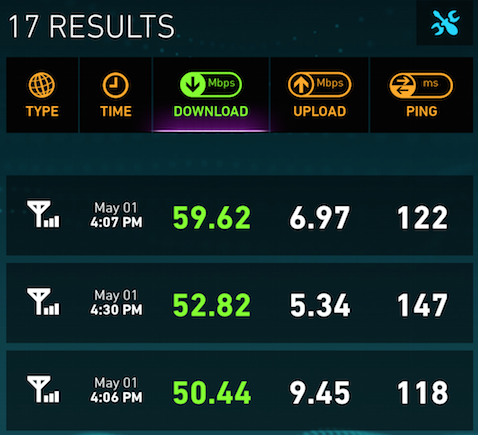 T-Mobile's made no secret of the fact that its building up a strong, and fast LTE network. And quickly. That was made clear when it announced that it had gone from 0 to 220 million people covered within the first twelve months of the network going live.
But covering a wide area isn't the only measure they're concerned with. It's also committed to boosting networks up to 10+10, 15+15 and 20+20 MHz LTE to ensure really fast connections. One area to see a boost recently was Minneapolis. Staff in the area received the following email to confirm (speed test results are above):
" I am pleased to announce the launch of LTE 15 by 15 service in our market. Offering even greater data speeds, LTE 15 by 15 is the next step in evolution of our 4G/LTE network. By expanding the bandwidth available to LTE capable handsets, our customers will be able to enjoy even faster data speeds on TMO network. If you were wondering why suddenly your data service appears faster, it is because of this network upgrade. In addition, since the beginning of the year we have been pushing out aggressively our LTE foot print boundaries and now cover more customers than ever before. Providing the fastest network and reaching more people and places with LTE service are key objectives for us. We will continue to execute on that strategy as we go through the current year.

This is an exciting year for the engineering team and our network. With the tremendous progress we have made with the roll out of our LTE network, and the good news we received yesterday on approval of low-band spectrum, we will continue to provide the very best in class wireless service to our customers. I will keep you posted as we continue to make progress with our plans."
Let us know if you see a sudden speed bump in your area, as it could also mean an improvement in network quality.