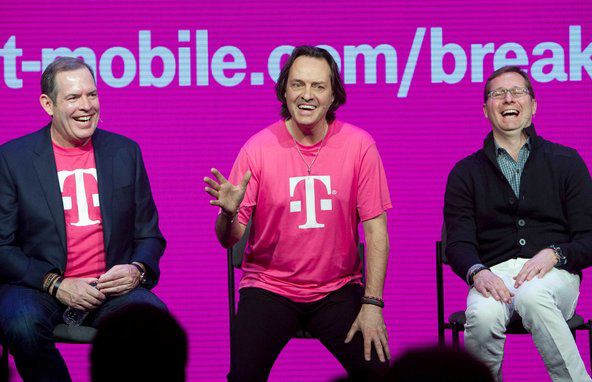 As you will undoubtedly have read by now, T-Mobile just had its greatest ever quarter. Adding 2.4 million new subscribers to its ranks and selling 6.9 million smartphones. But, having just come off the earnings conference call featuring John Legere, Mike Sievert and Braxton Carter, it's clear that T-Mo plans on doing even more during 2014.
Net Adds
It's clear to anyone who can read that T-Mobile had an incredible quarter when it comes to new customers added. At 2.4 million, it's not only much higher than the competition managed, but also a record for T-Mo and the first time it's gone over 2 million. In comparison, Verizon's net adds were 0.55 million, AT&T were 1.06 million while Sprint lost o.55 million. What's more, 1.3 million of T-Mobile's were branded postpaid customers, way higher than any of the competition  managed.
Network
It's been 12 months since T-Mobile's merger with MetroPCS took place, and it's well on track with its plans to decommission the old 3G CDMA network and replace it with a much faster GSM one. 53% of MetroPCS' customers now have T-Mo compatible devices, and more than 50% of the company's spectrum has been refarmed and integrated in to T-Mobile's network.
LTE – of course – arose in the call. Magenta's LTE network has gone from 0 to 220 million POPs in just 12 months. By the end of this year, T-Mo LTE will be available to 250 million Americans. And it's fast too. 10+10 MHz LTE has now made its way to 43 of the top 50 metro areas. 15+15 has made its way to 9 metro areas, with 19 planned by year's end. And the good stuff – 20+20 – has gone live in Detroit and North Dallas, with a further 5 markets schedule to receive it by the time 2015 comes around.
We heard yesterday that the deal to bring over Verizon's 700MHz A-block spectrum was completed ahead of schedule and T-Mo plans on starting deployment towards the end of this year. Once live, it'll cover 70% of T-Mobile's current user base, bringing a much better quality LTE network to 158 million Americans. Of course, there are other low-band spectrum auctions planned for this year, and next, and T-Mobile plans on being involved if it can. During the call, Legere announced his gratitude for the regulators' efforts at making the auctions fair and competitive.
Churn and Porting Ratio
Customers aren't leaving T-Mobile as fast as they were once upon a time. Churn is down to 1.5%, and customers are spending good money on services, ensuring that T-Mo remains profitable. With so many new subscribers joining Team Magenta, the question arose in the Q&A session at the end as to what the ratio was like in terms of customers leaving from other carriers, and going the other way. To save embarrassment for the other carriers, Legere decided not to reveal specifics on this. He stated that they were high, to the point where it's not been seen before in the industry. The number joining T-Mo from others compared to those going the other way is very high. On one day it was as high as 17-to-1.
TMUS stock?
I'm no financial expert and so my understanding of the market is limited simply to reading the numbers. Nevertheless, they're good. Since being made available to the public on the New York Stock Exchange twelve months ago, TMUS stock has risen 88%.
Takeaway
Other carriers have tried to copy some of the moves made by T-Mobile. But they're usually poor imitations, or limited time offers that don't really come close to matching Magenta. Uncarrier 4.0, and the offer to pay off ETFs has been hugely successful, and while other carriers only copy it as a short-term limited offer, T-Mobile will always trump its rivals.
With the recent decision to abolish overages, and drop LTE tablets down to Wi-Fi only prices, T-Mobile is going long-term with its version of offering a great service without any of the traditional frustrations involved in mobile contracts.
Legere stated: "We won't stop innovating and won't stop advocating for U.S. Consumers" 
While Q1 was an incredible start to the year, it's not likely that the company will match this quarter again for quite some time. Mike Sievert expressed that the carrier expects that the high subscriber additions rate will slow as time progresses. But that doesn't mean the company has reached the end of its idea-bank. It will continue to make moves to remove customer pain points, and continue to make T-Mobile a more attractive option to consumers.
I can't wait to see what's next. T-Mobile's proved that it's got a great strategy in place, and as coverage continues to improve, its reputation and service can only get better.