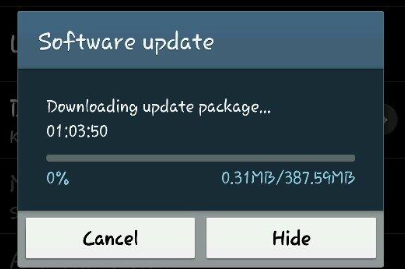 We just got word from our readers that they've been able to successfully download Android 4.4.2 for T-Mobile's version of the Galaxy S4. You might not get an automatic notification of its availability though, as it seems each of our readers has had to check for it manually through the settings menu.
Word of warning: Everyone so far has complained that it's taking ages to download. One reader stated 45 mins, while the screenshot above shows over an hour for the download, and it's less than 400MB.
Let us know how you get on updating your Galaxies. In this instance, it might be worth waiting until the process gets a little more efficient. Give it a couple of hours. Unless you have to have it right away, then get downloading.
UPDATE:
Link to the official update on T-Mobile's support pages: http://support.t-mobile.com/docs/DOC-5887