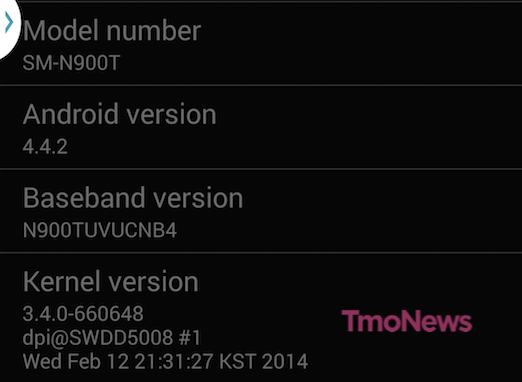 About five days ago, we received information that Samsung had released the source code for the T-Mobile Galaxy Note 3's KitKat update. Normally that means within a day or so the update should be available to the public. After much waiting, and anticipating, the day has arrived.
Several readers have contacted us, delighted that the update is finally here. Android 4.4.2 for the Galaxy Note 3 has been released. If you do have a Samsung Note 3, you should be notified that it's available. If not, head on in to settings and check for updates manually.
With Samsung's heavy skinning on top of Android, there might not be that much new to notice when it comes to user interface. However, performance on the LG G2 is noticeably improved. If you do notice any major differences, be sure to let us know in the comments below.
Full screenshot below. Thanks, Fidel and Phil.