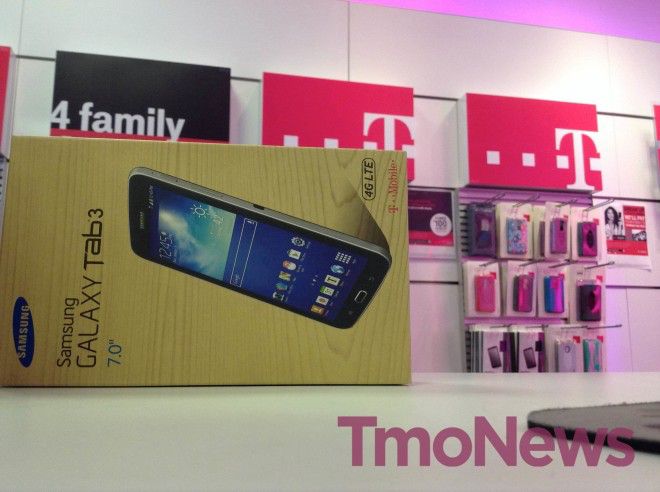 A couple of days ago, one of our sources informed us that the 7-inch Galaxy Tab 3 was on its way to T-Mobile stores.  From the keynote announcement at CES on Wednesday, we also knew without doubt that Tmo would begin selling the device. Now, we've heard back from two more insiders with evidence to confirm that units are already making their way to stores. Some have arrived. Firstly, above is the most clear proof that it's here. Samsung's Galaxy Tab 3 is in stores and – as expected – the boxes have the T-Mobile logo printed on them, and they indicate that the models being shipped are compatible with T-Mobile's LTE network.
Although no guaranteed date was given for availability at the announcement, it is now available to buy online. Head on over to the tablets store page on T-Mobile.com and you'll see you can grab one for $0 down and $13 per month on EIP ($312 in total).  Galaxy Tab 3 features a 7-inch, 600 x 1024 resolution display with a pixel density of 170ppi. So it's not the sharpest of displays, but it's adequate. It has 16GB of onboard storage, but can be expanded with the use of a Micro SD card and has a 1.7GHz dual-core processor. It runs Android 4.2. Although specs and performance are obviously different, it's certainly a lot cheaper than the iPad mini w/Retina also on sale, but it's nowhere near the value offered by the Nexus 7. As a comparison, the Nexus 7 has a 7-inch 1080p display (323ppi), 32GB internal storage and a quad-core 1.5GHz processor. Cost: $384 in total ($0 down/$16 per month). For me, for the extra $3 per month, it makes a lot more sense to go with the Nexus. But I know there are Samsung fans out there who might feel differently.
From a separate store, the following delivery notice shows Galaxy Tab 3's on their way to another store.