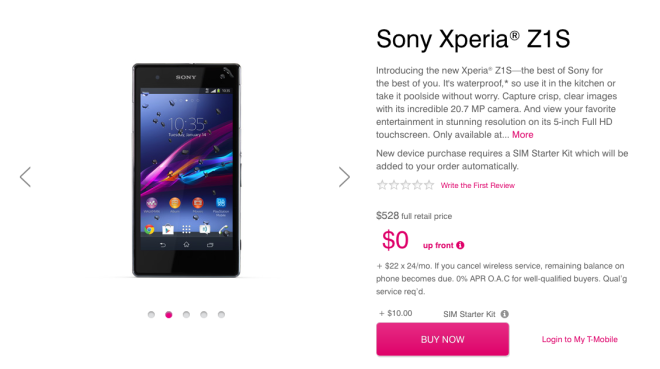 Sony announced its T-Mobile exclusive, the Xperia Z1S at CES in Las Vegas last week, and not it's available to order from T-Mobile's online store. It's $0 down with 24 monthly payments of $22, making a total retail price of $528. It'll be available in retail stores from January 22.
Feature-wise, you're looking at a waterproof device with a 5-inch, 1920×1080 resolution display. It's powered by a quad-core 2.2GHz processor, a 3,000mAh battery and sports a 20.7MP camera. It also has a Micro SD card slot for expanding storage and since  it's a T-Mobile device, it also comes with Wi-Fi calling as standard.
To order, head on over to the product page on T-Mobile.com.
Will any of you be snagging one?