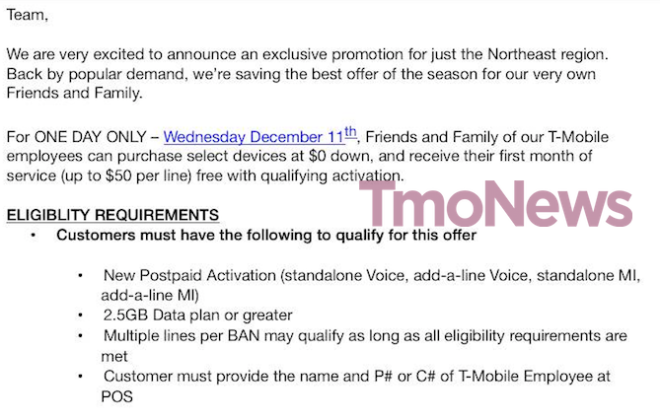 We just received some information stating that T-Mobile is going to kick off a one-day friends and family event on December 11th. For one day only, friends and family members of Tmo staff in the North East region will be able to get a new phone without paying anything up front, and get the first month of their service plan free (up to $50).
To get the offer, it has to be a new, postpaid activation. So, no upgrades. It applies to standalone Voice, add-a-line Voice, standalone MI and add-a-line MI as long as the plan is 2.5GB or greater. You can even add the discount to multiple lines, providing they all meet the requirements. For you (or your friends and family – if you're an employee) to get the discount, the customer needs to provide the employee's P# or C# and name at the point-of-sale.
For store staff, the target is to sell 2 friends and family discounted lines each (10 per store), and they're being recommended to make appointments for their friends/family members during the day. To apply the discount, the sales staff simply add a CAM credit to the qualifying line.
For now, this is all the information we have on the discount. The information states that "Selected Devices" will be available for $0 down. Which specific handsets that includes, I'm not sure yet. If I receive any further details, I'll let you know.
For those outside the North East region, sadly, it doesn't appear that you'll be able to take advantage of this offer. This region, as far as I know (happy to be corrected if you know differently) includes the following 7 States: Connecticut, Maine, Massachusetts, New Hampshire, New York, Rhode Island and Vermont.