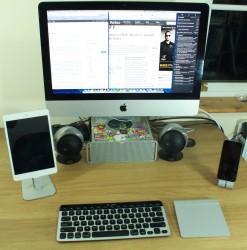 As promised when I first took over running TmoNews, and as part of many loyal readers' opportunity to get to know me, what makes me tick and how I make technology work for me, I decided to write up on the goodies that I use at home. Now, as a blogger and video maker, a lot of my "home" tech is really just "work" tech. Stuff that I use every day, most of which might not leave the house that often. So without too much more rambling, here's the gear that gets me through the day:
1. 21-inch iMac
As much as I'd love to be able to use just a laptop – and I did for a while – it's really difficult to argue against the benefits of a desktop computer. I first switched to Mac back when I started my media studies at university in 2008 and I've never been tempted or wanted to switch back to Windows. Simply put: It works for me. I went with the 2.7GHz i5 model iMac with 8GB of RAM, with a 1TB "Fusion" drive. I need the speed offered by the solid state part of the hard drive to create, edit and export videos and photographs, but I needed the storage to hold all my media. This combination of large storage capacity and speedy performance is perfect. The screen is fantastic too. It's a full HD panel, but it's the color reproduction that sets it apart from a lot of alternative displays. For a good 6 months before shifting from my MacBook Air to the iMac, I'd been using a Samsung LED monitor, and there's just no comparison.
2. Twelve South HiRise for iMac – $79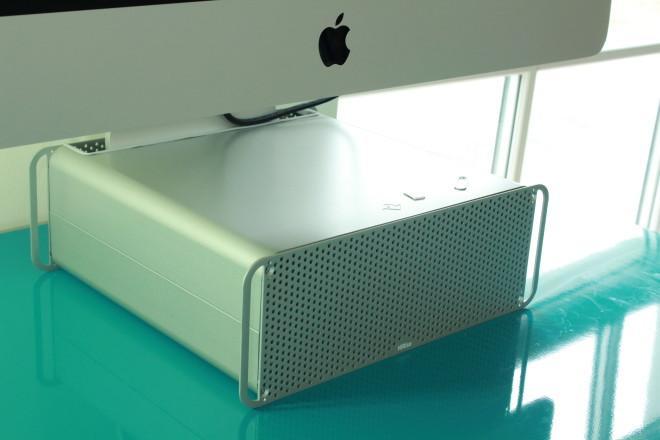 I'm over 6 foot tall and so for the sake of my posture, I need to have my display slightly raised to save me from getting back ache from hunching over my desk. The HiRise – like most of Twelve South's products (a recurring theme in this post) – is a brilliant piece of design. It's sleek, made from metal and has enough storage space to keep all sorts of things inside. Personally, I use it host my audio system's amp and a few SIM ejector tools (for easy SIM-swapping). I've also "decorated" it with a few stickers. It's sturdy, looks great on my desk and is incredibly useful. Product Link.
3. WD MyPassport 1TB – $99.95
With a 1TB drive in my Mac, I needed to match that with an external hard drive. Western Digital's My Passport was my choice purely for its reputation, build quality and value for money. All I use it for is to back up my system using Time Machine. Had I needed a faster drive for working on huge media projects in real-time, I'd have gone for something a bit pricier, but my needs are very minimal. It's a "just in case my computer blows up" purchase. Product Link.
3. Twelve South BackPack – $34.99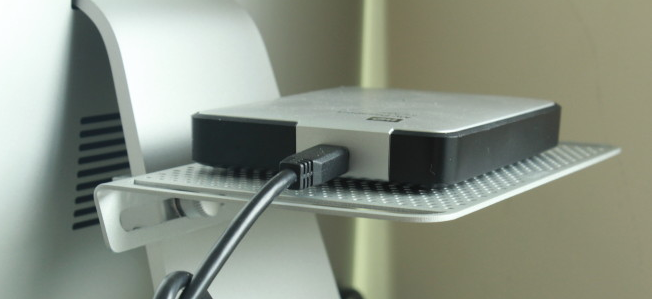 Another Twelve South product, and not the last on the list either. I like having my external drive fairly easily accessible, but also hidden out of the way to stop my desk getting overly crowded. The BackPack is a perfect solution. It grips on to the stand of the iMac and provides a platform for my external hard drive keeping it – and its cable – completely out of site. Product Link
4. NanoTek Stand – $29.95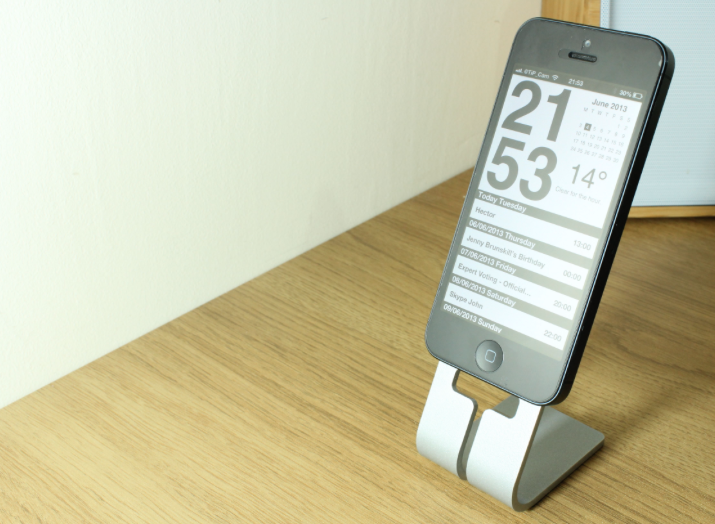 Originally a KickStarter project, the SETA smartphone stand was bought out by Braketron and rebranded "NanoTek". As you can probably tell by now, there's a running theme of aluminum and black running through my choices. This stand looks like a backwards iMac "leg" and features two areas covered in nano-suction equipped material. What I love about nano-suction is that it provides the grip of a strong adhesive, but doesn't leave any residue. It's technically not sticky at all. Pressing any flat-backed, non-porous phone on to it squeezes out all the air from the microscopic suction cups and keeps it attached. If it stops working, clean it with a damp cloth. I love its minimal design, its sturdiness and the fact that it has a gap specifically for feeding through my charging cable. Product Link.
6. Orb Audio – Amp, two speakers and sub – $549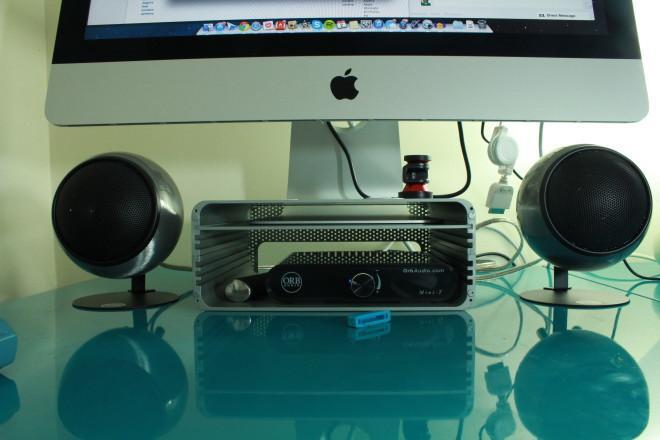 I spend 8-9 hours a day sat behind my computer, so I needed a great audio system for my daily playlist. A few months ago, a company asked me if I wanted to try (and review) its speaker system. I said yes. Normally, I get sent the hi-tech, wireless stuff that uses Bluetooth or AirPlay for music playing. This was the polar opposite.
Orb Audio products are so delightfully analogue. I had to cut the hi-grade copper wiring myself, and attach it to the speakers. Controlling the system is a small amp with a volume dial on the front. Nothing else. On the back are a handful of different input and output connections. The speakers themselves are beautifully designed and sound fantastic, lacking a little in bass. Fret not, however, bass-lovers, I got the company's Super Eight sub too. Once that's added to the equation, there's enough bass to make your lungs pound – if you turn it up loud enough.
If I ever wanted to expand the system, I can do so easily by buying more of the smaller speakers, even upgrading it to 5.1 surround if I wanted. It's brilliant. Also, if you don't want the setup I've got, you can choose your own. Order cable, speakers, amps, subs all separately until you've got your own perfect combination. Product Link.
7. iPad mini w/Retina – 32GB – White/Silver
Although I have both the iPad mini and iPad Air, it's the new mini that gets most used at home. On the move is a different story, but to browse, games, read and relax on the couch, I find the mini to be more enjoyable to use. I don't often use it for work.
8. iPhone 5s – 16GB – Space Gray
Yes, I'm an "iPhone guy". Sort of. Over the past year I've owned or tested a Samsung Galaxy S4, HTC One, Nexus 4 and Nokia Lumia 925, but it's always the iPhone I end up using as my primary device. And it's not because I have anything particularly against other manufacturers, or even Android as a user interface. On the whole, I loved the Nexus 4 and HTC One. I loved having the bigger display, and SwiftKey is quite simply one of the best apps on any platform. So much better than the iOS keyboard. That said, there weren't any other apps I felt were as good or better than the ones I use each day on iPhone. That said, with Any.Cal and Evomail on Android now, there are more of my daily apps on Google's platform than there ever have been before. I'll keep on dipping my toe in Android as it continues to develop. Maybe one day it will become my go-to platform.
9. Incipio NGP for iPad mini – $24.99

Although I review a ton of accessories on TodaysiPhone.com on a regular basis, I generally don't use a lot of cases day-in day-out. Of all the dozens I've tried, there are probably 7-8 I'd actually consider using myself. One of those is the NGP for iPad. It protects the back of my iPad and leaves the screen completely accessible. I'm generally not clumsy with my devices, so I have no fear of screen damage. It's flexible and fairly thin, but has adequate shock protection to keep the metal from being damaged. Product Link.
10. Twelve South HiRise for iPhone/iPad mini – $34.99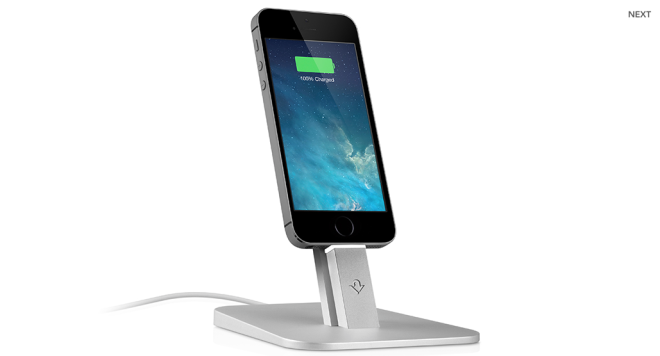 Yes. Another Twelve South product. It's not often you come across a sleek, minimal stand/dock that charges multiple iDevices. Being able to have one stand on my desk that I can place my iPad mini or iPhone 5s on to is great. It keeps unnecessary clutter of my desk, ensuring I don't have to have too many stands hanging around. Product Link.
11. Logitech Easy-Switch keyboard – $99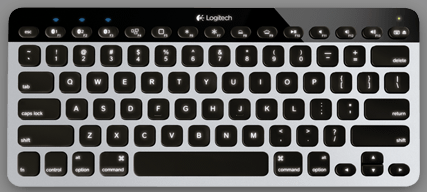 If you've been counting, you'll notice that – most of the time – I have 3 devices on my desk at all times. I have the iPad mini, iPhone 5s and Mac. When it comes to making them work for me, I needed a keyboard that tied them all together. When writing up reviews or longer articles, to be distraction free I prefer to type them up on Evernote for iPad. But I sometimes still need to switch between that and an email on my mac, or a message on iPhone. Easy-Switch allows me to switch between the three just by pressing F1, F2 or F3. F1 is my iMac, F2 is my iPad, F3 is set up to connect to my iPhone. It's pretty awesome. Not to mention, the keyboard is also aluminum and black plastic, fitting in with everything else on my desk. Product Link.
12. Canon EOS 600D (T3i?)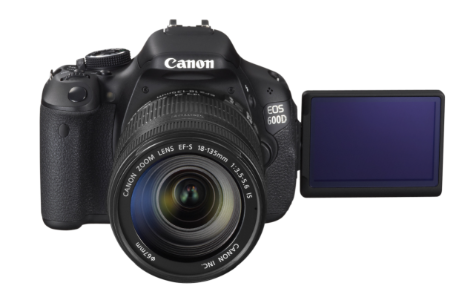 I'm not a professional photographer or video maker, and so I decided not to spend tons on a Canon 6D. Instead, I went with the middle of the road 600D. When I bought it, it was the best camera for my own personal use case and budget. It has a rotatable view finder display so I can see myself when vlogging, it also has an external microphone input, a must for anyone filming video. Onboard microphones are generally awful, even a cheap $20 clip-on microphone is a better bet.
If you have any questions about any of my gear, feel free to leave them below. As for what I use when I'm on my travels, or I fancy a day out of the home office, that'll come in a separate post.